Crimea's economy in numbers and pictures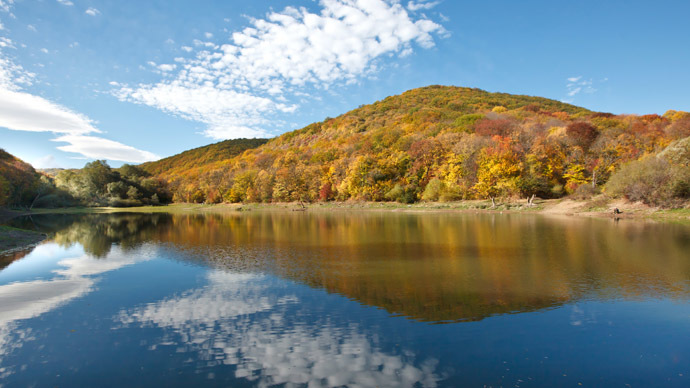 As the clock ticks down to Crimea's March 16 referendum, where residents will vote to align with Russia or to stay in Ukraine, RT looks at what the sunny Black Sea peninsula can offer economically and what ties it has with Moscow and Kiev.
At first glance, Crimea has certain problems - a lack of energy, and more dangerously, freshwater resources. The republic's annual GDP is only $4.3 billion - 500 times smaller than the size of Russia's $2 trillion economy.
Whatever the results of the referendum are, fixing the dilapidated state of infrastructure and transport could offer a real investment opportunity for both Russian companies and Crimean entrepreneurs.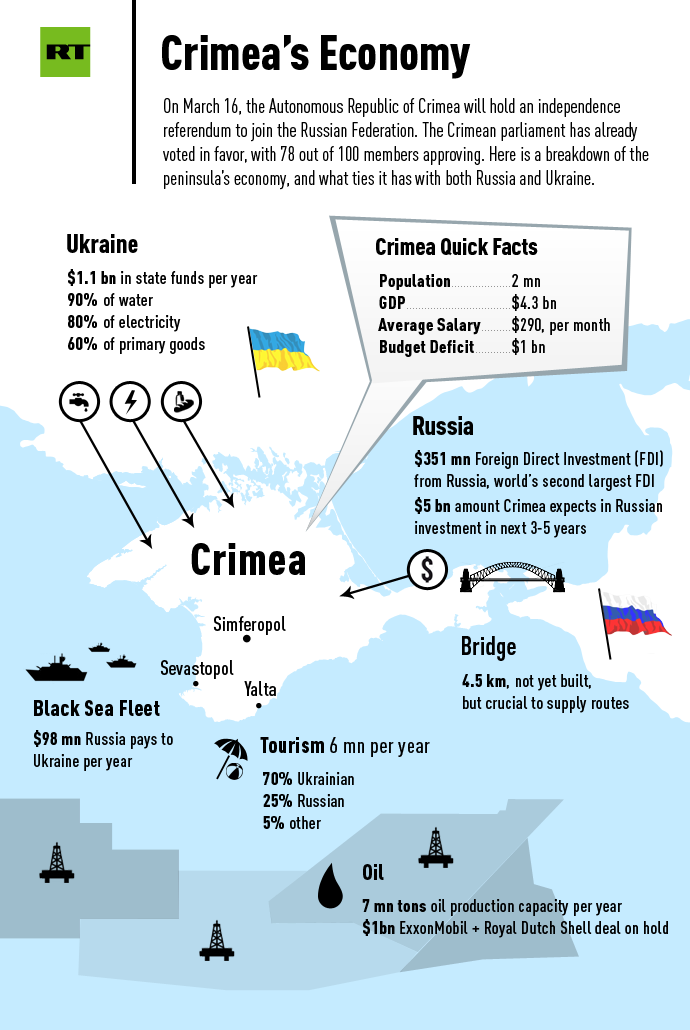 Tourism
The backbone of Crimea's local economy is its bustling tourist industry, which draws in 6 million visitors per year during the summer season. But currently, 70 percent of the tourists are from Ukraine, and only 25 percent from Russia. Political rifts between Russia and Ukraine could turn off tourists, with tourism expected to drop by 30 percent this year.
However, if Crimea becomes a part of Russia it'll become a more attractive holiday destination for Russia's population of 142 million, whose per capita income is more than three times Ukrainians', according to World Bank estimates.
The average Ukrainian salary was 3,148 hryvna per month ($331) in February 2014, according to the Ukrainian Bureau of Statistics. In Crimea, the average is 2,693 hryvna ($283), whereas in Kiev, workers make nearly double, 4,783 hryvna ($503).
Oil and gas prize
The big economic prize in Crimea lies to the south, in the Black Sea natural gas fields.
Extraction from these fields has the potential to be substantial - up to 7 million tons in annual production capacity, by Bloomberg estimates.
US ExxonMobil and UK/Dutch Shell have also been in talks with Ukraine about deepwater offshore oil drilling, but the only problem is, all this oil is located under Crimean waters. The deal is estimated at $1 billion.
ExxonMobil's Black Sea offshore plans are currently on hold, senior vice president Andrew Swiger told investors at an early March meeting.
On Thursday, Crimea's authorities took under their umbrella Ukrainian oil and gas fields in the Black and Azov seas, according to the speaker of Crimea's parliament, Vladimir Konstantinov.
He supports Russia's Gazprom taking control of the oil and gas assets.
"Russia, and Gazprom, should take care of the oil and gas production. It's not our issue," RIA reported Konstantinov as saying.
Second Singapore?
Sergey Aksyonov, Crimea's prime minister and an advocate of joining Russia, has the hope that breaking away from Ukraine will transform the economy for the better. Aksyonov cited Singapore, which is an independent city-state, as an example to follow.
"For me, Singapore is a style icon. This is a city with 2 million people and has an area of 52 square kilometers, with a budget of $46 billion. These days, Crimea has 26,000 square kilometers, 2 million people, and a budget of $500 million. In my opinion, all in all, we are capable of doing this ourselves, and can independently solve a lot of issues and at the very least, achieve a three- to four-fold increase in the budget," Aksyonov told NTV on March 9.
Singapore is situated beneath Malaysia, and is predominantly ethnic Chinese. The region declared independence from Britain in 1963, and after a brief unity stint with Malaysia, became its own city state in 1965, and has since developed into a business and commercial hub, and an international finance center. Before, its only claim to fame was being Britain's biggest naval base in South Asia.
Crimea may not follow the same success path, but an option to boost growth is to make Crimea a special economic zone – with less taxes and financial regulation – which could spur growth and attract foreign investment. In 2005, Russia passed a law that allows for special economic zones, and has toyed with setting one up in the Far East, but so far, none have been established.
Crimea was part of the Russian republic in the Soviet Union until 1954, when it was handed over the Ukrainian republic by Nikita Khrushchev, who lived in Ukraine and married a Ukrainian. Upon the collapse of the Soviet Union in 1991, Crimea, even though majority ethnically Russian, became part of the newly independent Ukraine.
You can share this story on social media: