Europe begs Spain for a 'yes' or 'no' answer on bailout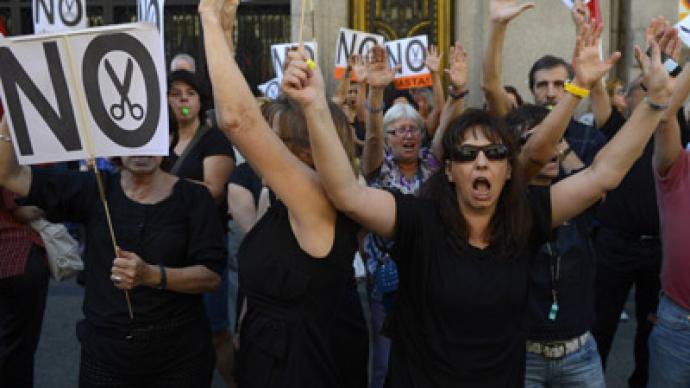 Euro zone finance ministers want a clear cut answer from Spain whether it will seek financial support after Madrid's borrowing costs sharply lowered following the European Central Bank decision to buy bonds last week.
Will Spain ask for its bailout, so that the ECB's unlimited bond buying project can be launched? This question has recently been number 1 in Europe. The ECB has made it clear that a Spanish request for help from the euro zone's bailout fund, strict conditions and monitoring, is essential to trigger its bond-buying intervention in the secondary market.Spain told euro zone finance ministers on Friday it will set clear deadlines for structural economic reforms by the end of the month.The ECB statement it will buy Spanish bonds, should it apply for help from the euro zone bailout fund, brought Spanish 10-year bond yields down from 7.64% on July 24 to 5.62% on Thursday. A Dutch newspaper reported earlier on Friday that a bailout for Spain is being put together with the ECB and the International Monetary Fund (IMF) in talks over a support package for Spain worth a possible € 300 billion.However, the European Central Bank's spokeswoman denied the reports, saying the ECB is not negotiating alongside the International Monetary Fund to provide a rescue package for Spain."The reporting is unfounded. No negotiations are ongoing. It would be up to Spanish authorities to make a request," the spokeswoman said.Spain is opposing any austerity conditions that go beyond European Commission recommendations it is already implementing, while north European creditors led by Germany are adamant that any aid would only be provided under certain austerity-related terms."It is much more important to meet our public deficit targets and comply with our program of reform than a potential rescue," Spanish Finance Minister Luis de Guindos told reporters when asked about conditions for any financial support. "The fundamental question here is to establish the elements of what could be an intervention of the ECB in the secondary market. I believe that's what we will do today, although it will be in a generic way and not directly in relation to Spain."Meanwhile the euro zone is getting the money ready for indebted members. The euro zone's permanent bailout fund will be up and running at the end of next month.Eurogroup President Jean-Claude Juncker said that member states would inject 32 billion euros into the European Stability Mechanism (ESM) in two tranches by the end of October, effectively giving it an initial lending capacity of roughly 200 billion euros.
You can share this story on social media: