Spain to put another $7.5bln in Bank Rescue Fund
Published time: 5 Sep, 2012 10:25
Edited time: 5 Sep, 2012 14:35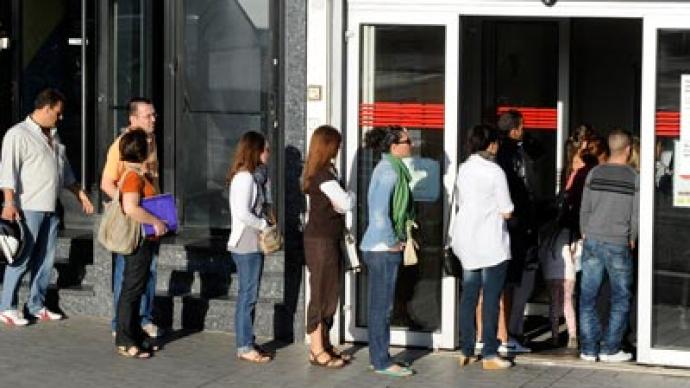 The Spanish government is injecting another €6 billion ($7.5 billion) into its bank rescue fund to cope with growing problems in its ailing financial sector.
An official with the Economy Ministry, speaking on condition of anonymity because of government policy, confirmed the extra cash will raise the capital base of the bank rescue fund to €15 billion, AFP reports.
The alleged emergency injection into the rescue fund, which is to provide aide primarily for Spain's nationalized lender Bankia, comes ahead of a much bigger injection by Spain's Eurozone neighbors. To cope with the growing burden of helping its banks, Spain has formally asked for a loan from its 16 Eurozone partners of up to €100 billion. The government expects to get the loan by early November, once the banks' restructuring plans are unveiled in the middle of this month.
Reports of a new emergency injection into bank rescue fund follow Monday's statement by Economy Minister Luis de Guindos, who said Spain's banks aren't likely to need to tap all the 100 billion euro, painted a rosier picture of state of finances. De Guindos also claimed that no additional austerity measures will be needed to meet the Spanish government's deficit-reduction target as Spain is battling to avoid the same bailout scenario as Greece, Ireland, Portugal and Cyprus.
However the financial difficulties of Spanish banks and regional governments are weighing heavily on investors, who have been asking for higher interest rates to lend to the government.
The rescue fund reportedly needs the new money to make an emergency cash injection of €4.5 billion into Bankia by buying new shares.  Bankia, like many of Spain's banks, is struggling to cope with huge amounts of soured real estate investments left over from the bursting of the property market bubble in 2008.
Bankia said it needed a total of €19 billion in public aid. The total amount that will be injected into Bankia should be made public in coming weeks after audits of Spanish banks are completed. Spain could finance the fresh injection of cash into the rescue fund by issuing bonds, but no decision has been made yet, the official said. Spain's benchmark 10-year bond rate stood at an elevated 6.6% on Wednesday.
Meanwhile, official statistics show the economy is still in a deep recession. The government said Tuesday that the number of people claiming unemployment benefits in Spain rose by 38,179 in August from the previous month to a total of 4,625,634. ECB President Mario Draghi is expected to detail the Eurozone plan on Thursday.