Germans hope to overcome the crisis, but without Greece - poll
Published time: 3 Sep, 2012 08:13
Edited time: 3 Sep, 2012 12:13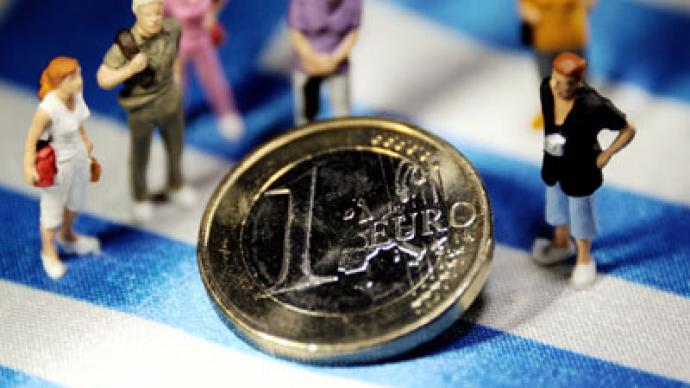 German Chancellor Angela Merkel faces a challenge over whether or not to agree adjustments to the Greek bailout package. An opinion poll shows only a quarter of Germans think Greece should stay in the euro or get more money from other countries.
­The poll of 1,000 adults in Germany, Italy, Spain, France and Britain, prepared by Harris polling for the Financial Times, shows only 26% of Germans believed Greece "will ever repay its bailout loans", compared with 77% of Italians and 57% of Spaniards.
Last month Greek PM Antonis Samaras met Angela Merkel and French President Francois Hollande in order to secure a two year extension for the country's austerity program. In exchange for the latest tranche of around 31.5 bln euros in international loans, Athens needs to reduce its national budget deficit to less than three percent of the country's GDP by 2014. In 2011, the budget deficit was 9.3% of GDP.
Greece is currently trying to finalize a package of 11.5 bln euro of spending cuts over the next two years. The budget cuts are expected to hit pensions, social benefits, public sector wages and health care. Some 40,000 civil servants are also expected to lose their jobs.
Meanwhile almost half of Germans did not think Greece would ever be able to reform its economy sufficiently to cut its dependency from the international aid. But 88% of Italians and 70% of Spaniards were at least "somewhat confident" Greek would break through.
However, both Hollande and Merkel stressed they want Greece to remain in the eurozone. Greek PM Samaras said 'Grexit' would bring five more years of recession and push unemployment above 40%. The PM's predictions echoed the newly released UN Labor body's report, which warns the unemployment rate in the eurozone would rise to 13%.
Despite the gloomy forecasts, people in all four eurozone countries hope their leaders will be able to address the problems raised by the crisis. However, 44% of Britons were less optimistic saying they were "not at all confident" that policy makers would manage to curb the crisis.