Market Buzz: Balancing on Europe news, US 'fiscal cliff' dragging towards red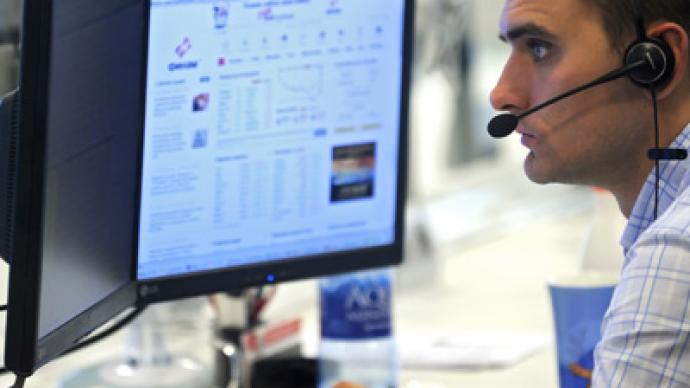 Market analysts expect Russian stocks to rebound Wednesday, after sharp falls the previous trading session. Little progress in Greece – the current focus of troubled Europe – coupled with poor economic data in the area disappointed investors Tuesday.
"Bulls" will try for revenge at the opening of trading on November 14, that's why I don't exclude that the main session in Russian markets could open in the black," Ekaterina Kondrashova of Investcafe maintains.
As for the macroeconomic news coming "the events of ECOFIN [The Economic and Financial Affairs Council] might be the main drivers of the markets" Wednesday, Veles Capital analysts added.
ECOFIN is one of the oldest institutions of the Council of the EU, consisting of the economics and finance ministers of the 27 EU member states, as well as budget ministers when budgetary issues are discussed.
Russian stocks went deep into the red in Tuesday's session, with the RTS dropping 2.88% to finish at 1,363.80 and the MICEX losing 2.42% to 1,373.83.
"On the Russian market the situation did not look good. Shares of Uralkaliy seemed better than the market due to news of a buyback. Rosneft and MTS were also good. Severstal and Surgutneftegas were worse than the market," Veles Capital analysts added.
The market downturn came on the back of "the growth of the US dollar to regional currencies, poor macroeconomic statistics from Europe and falling oil prices," Aleksey Malikov, an analyst from TRADE –PORTAL explained in an email.
In Europe, Greece didn't manage to secure more bailout money from international creditors Tuesday, with the issue having been put off till November 20. In Germany, Europe's biggest economy, hopes of a quick recovery seem to be fading away, as its ZEW sentiment index stood at -15.7 in October, while a reading of -10 was expected.
In any case, Tuesday's sale of short-term treasury bills by Greece seems to have inspired Asian investors in early Wednesday trading.
Japan's Nikkei 225 index rose 0.1% to 8,670.67. Hong Kong's Hang Seng added 0.6% to 21,321.15 and Australia's S&P/ASX 200 gained 0.2% to 4,387.60. South Korea's Kospi fell 0.1% to 1,887.62. Benchmarks in Taiwan, Indonesia and the Philippines also rose. Singapore and Malaysia fell.
Greece held a sale of short-term treasury bills Tuesday that will help it make a crucial debt repayment at the end of the week. Without the sale, Athens would have found it impossible to repay the 5 billion euro ($6.4billion) treasury bill maturing on Friday, the day on which Prime Minister Antonis Samaras has said Greece would run out of money.
Traders also have to deal with the uncertainty posed in the US by the looming "fiscal cliff," a set of US government spending cuts and tax increases that will take effect automatically at the beginning of next year unless the country leaders reach a compromise before then.
Economists have warned that the US economy could be thrown into a recession if nothing is done. Worries about the fiscal cliff pushed US stocks to one of their worst weekly losses of the year last week.
On Tuesday, the Dow closed down closed down 0.5% at 12,756.18. The S&P500 fell 0.4% to 1,374.53. The Nasdaq Composite lost 0.7% to 2,883.89.
European stocks closed higher Tuesday. Britain's FTSE 100 added 0.3%, the DAX in Germany was up 0.1% and France's CAC 40 gained 0.6%.