Russia hits a 25-year record for daily oil extraction in June
Published time: 9 Jul, 2013 10:04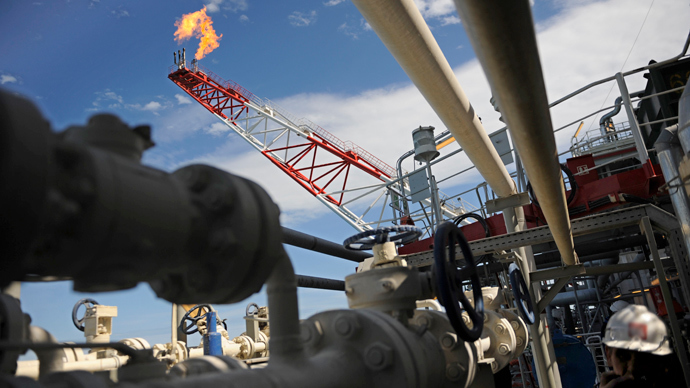 Daily oil extraction in Russia in June was at its highest since 1988. Experts are not being overoptimistic, saying the oil industry is a "subtle matter," that desperately needs long-term investment.
June daily oil extraction stood at 10.53 million barrels, according to the Central Dispatching Department of Fuel Energy Complex (CDU TEK). A higher number was fixed 25 years ago in the Russian Soviet Federative Socialist Republic, when it stood at 11.070 million barrels a day, as Vedomosti refer to BP data.  After the peak in 1988 daily oil extraction slid to a minimum of 6.06 million barrels of oil a day in 1996. In 2012 the number was at 10.37 million barrels.
The record result came on the back of increased extraction in Rosneft's Vankor Field in Russia's Krasnoyarsk region, which was coupled with Gazprom's higher production of gas condensate, Andrey Gromadin, JPMorgan analyst for oil and gas, told Vedomosti. This year Rosneft plans to extract Vancor's all time high of 25 million tones in the oilfield, which compares to 18.3 million tones in 2012.
Rosneft's aspiration for new records in oil extraction looks logical, as the world's oil giant has now a number of huge long-term contracts. Starting from July Rosneft needs to supply 8.6 million tonnes annually for the next three years to Polish oil major PKN Orlen, with another 365 million tonnes going to Chinese CNPC between 2014 and 2039.
Russia outpaced Saudi Arabia in terms of oil extraction long ago. Daily extraction stood there at 9.47 million barrels a day in June, according to Bloomberg. However, the Saudis could easily increase the number to 12.5 million barrels a day, said Andrey Polishuyk, Raiffeisenbank analyst. It doesn't use its potential to avoid a collapse of oil prices, Polishuyk added.
The dynamics of oil extraction in Russia is "too subtle a matter," according to a Vedomosti source. Oil workers have continuously repeated that stable conditions for long term investment are necessary to provide for industry efficiency, the person reminded.
Analysts agree that daily extraction numbers are not going to increase much higher. The June record is a peak and there are no short – term preconditions for further growth, according to JPMorgan's Gromadin. And Artur Akhmetov, an analyst at Solid IFC, expects extraction to remain at 10.5 million barrels a day. Exploration of shelf and problematic deposits could help lift the daily numbers to 10.8 -11 million barrels a day, Akhmetov concluded.