Gazprom joins shale oil race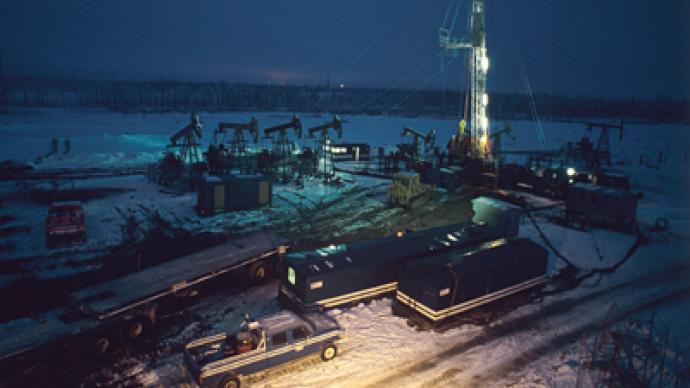 Gazprom Neft, oil arm of the energy giant Gazprom, is drilling for shale oil in Western Siberia. Realization of the shale oil project is believed to breathe new life into oil development as traditional deposits have been showing signs of dwindling.
Gazprom Neft has started exploration of Bazhenov formation that potentially contains minimum 8-9 billion tonnes of shale oil. Saturated with oil formation lays at the depth of over 2km and occupies 1.2 million sq km in Western Siberia alone, which exceeds the territories of France and Spain combined.How much of that oil is extractable is yet to be seen. Gazprom Neft does not expect to extract considerable volumes of shale oil earlier than in 2021, but in the end expects to extract a total of at least 150 million tonnes. Annually, the company develops over 59 million tonnes of crude oil equivalent.The Bazhenov formation holds deposits of light low-sulfur oil with small amount of impurities; its quality is close to that of Brent.Geologist Ivan Nesterov, corresponding member of the Russian Academy of Science, has been researching oil recovery from bituminous clay since 1964. For years he pointed out that the future of oil development in Russia lays in recovering oil from the horizons of Bazhenov formation.It was Nesterov who initiated discussion on shale oil development in modern Russia and made his voice heard on the very top. He believes the Bazhenov formation might contain as much as 100 billion tonnes of shale oil.Gazprom, which has always been reluctant to follow the American trend of shale gas development, has finally become interested in shale oil. The tendency of the last years exposed that newly-discovered oil deposits do not compensate for those going out of development. Many experts agree that Russia is facing oil development decline in the nearest future.So Gazprom Neft opted to start developing alternative oil deposits."Unlike the situation with shale gas, the development of which is absolutely not relevant in Russia, Gazprom is really interested in shale oil exploration. We do intend to actively develop in this direction," Gazprom and Gazprom Neft CEO Aleksey Miller said.On October 26, 2012, the board of directors of Gazprom Neft adopted a new company development strategy that includes enhanced oil recovery technology and shale oil development.Because no other company in Russia has ever invested in shale oil, Gazprom Neft needed the technology know-how because shale oil recovery is more complicated than traditional oil extraction. Gazprom's long-standing foreign partner Royal Dutch Shell Company agreed to share the technology via Salym Petroleum Development N.V. (SPD), a 50/50 joint venture of Gazprom Neft and Royal Dutch Shell.Actually, the shale oil drilling is currently being done by two subsidiaries, SPD and Gazpromneft-Hantos (recovers 5 per cent of all oil extracted in Russia). Both companies operate in Khanty-Mansi Autonomous region, where half (259.9 million tonnes of a total 517 million tonnes) of Russian oil is developed. Gazprom Neft, Shell and SPD engineers jointly elaborated a road map to develop shale oil production into industrial scale.Salym Petroleum Development is conducting a massive 3D seismic campaign, exploring new and already existing oil areas, mapping potential drilling sites to develop Bazhenov formation in Upper Salym oilfield. Reportedly, Russia's leading oil companies Lukoil, Rosneft and Surgutneftegaz are undertaking shale oil extraction projects of their own. Rosneft is teaming up with the Norwegian Statoil to explore shale oil deposits of Khadum Formation in Russia's Stavropol Region.
You can share this story on social media: