Russian oil price jumps 20% in a month as Rosneft cuts domestic sales
Published time: 13 Jun, 2013 10:58
Edited time: 13 Jun, 2013 15:59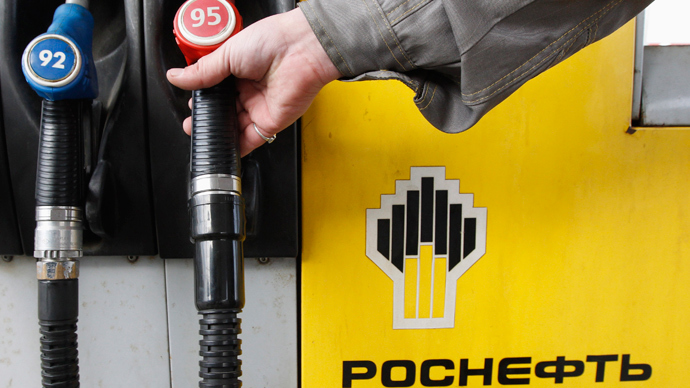 The spot price of oil jumped by a fifth in Russia between May and June, as Rosneft reportedly redirected part of domestic sales to Asia – Pacific markets after the TNK-BP acquisition.
Russia' s oil market has seen reduced  volumes which has driven prices in the country's spot market to 12,650 roubles ($408) per  tonne, says research by the International Information service  Argus Media.
Prices in the spot market reflect the current situation in the market and the forces moving it.
This happened after Russia's oil major Rosneft finalized the acquisition of the former Russian- British oil consortium TNK-BP, that used to supply the Russian market with about a third of domestic supply, as Vedomosti quote  Argus Media director Michael Perfilov. 
Rosneft is now focusing on Asia – Pacific, Andrey Polishyuk, an analyst at Raiffeisenbank, told Vedomosti. Just a day  after the Russian oil major closed the deal with TNK-BP in March to become the world's biggest publicly traded oil company, Rosneft president Igor Sechin signed a deal with China National Petroleum Corporation (CNPC) to increase oil exports to China.  Under the contract the volume of Russian oil delivered to China may more than triple – from 15 million tonnes a year to 46 million tonnes.
Increased capacity of the East Siberia – Pacific Ocean oil pipeline (ESPO), that delivers oil to the Asian Pacific region also made  exporting oil more advantageous for Russia, Ivan Anashkin from Investcafe told Business RT.

Small Russian oil refineries will be hurt the most, as Rosneft chose to only retain ties with big former TNK-BP partners, according to Michael Turukalov a business development director at the independent agency "Analytics of commodity markets". At the moment there are around 80 independent oil refineries operating in Russia, that used to buy exactly those volumes that left the Russian market. Some of these refineries will most likely have to close down, Turukalov concluded.