Discount clothier Primark extends compensation to Rana Plaza victims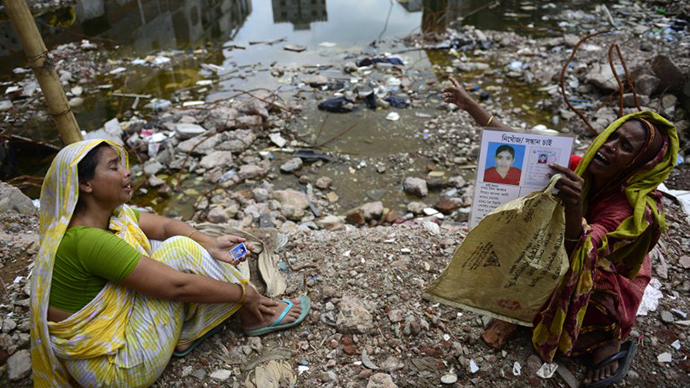 The Primark discount chain will be paying wages for another three months to workers affected by Bangladesh fire and building collapse, considered to be the deadliest garment-factory accident in history.
The April fire at the Rana Plaza factory in Dhaka killed more than 1,100 people, and most of the victims haven't been compensated.
Last month the global trade union IndustriALL organized a meeting of the leading world retailers in Geneva to discuss a compensation fund of $74.6 million, the BBC reports. Only 9 out of the 23 brands being made at the Rana Plaza attended the meeting, so the retailers failed to reach an agreement. Key absentees included such giants as Wal-Mart and Benetton.
An eight - floor Rana Plaza factory in a Dhaka suburb collapsed on the 24th of April. According to preliminary investigation four large illegally placed generators providing power for the building set the building vibrating which resulted in its collapse. 
1,129 people died, 2,500 out of 3,000 inside the building were injured.
The Rana Plaza was not the first building collapse in Bangladesh. The country's clothing factories are often accused of poor working conditions and wages of 15 cents per hour. Last November a fire in the Mirpu factory near Dhaka killed more than 110 workers.

Garment manufacturing is a key driver for the Bangladesh economy.
"There are four million employed [in the textile industry], 80% of Bangladeshi exports are clothes. It is a way to alleviate poverty. It is a force for good," Paul Lister, a head of corporate governance at Primark's parent company Associated British Foods told the BBC.
Earlier this week, Bangladesh and the International Labour Organisation (ILO) agreed to launch a $24m initiative to improve the conditions of garment workers.
In his first interview with the BBC, Paul Lister, said that "a lot has been done" since the fire to improve standards, and that the events of April were a "huge tragedy".