Not fashionable: Western brands slow to compensate Bangladesh factory families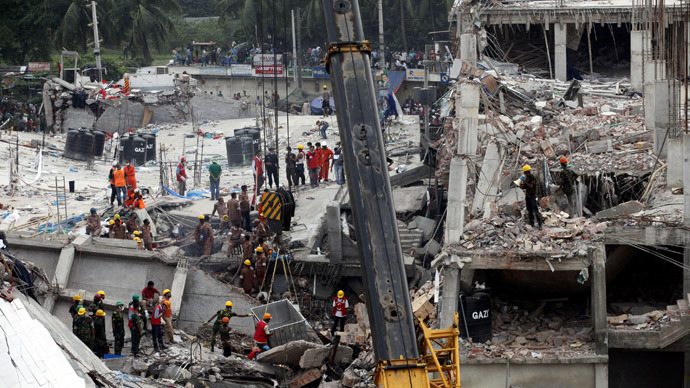 Only two of many Western fashion retailers said they will compensate the victims of a collapse at a garment factory that killed nearly 400 Bangladeshis. Textile bosses are pleading with clothing giants to keep producing there despite the accident.
UK clothing chain Primark has become the first company to promise an unspecified amount of compensation to the families of those who worked for its supplier, Simple Approach, which occupied the second floor of the collapsed eight-story Rana Plaza building.

Primark has confirmed its supplier had contracted New Wave and that it "shared the building with those of other retailers."

"We are fully aware of our responsibility. We urge these other retailers to come forward and offer assistance," said the retailer.

The company said the payment would include long-term aid for children who lost parents and financial aid to those who were injured.

Primark has joined with a non-governmental organization to provide emergency food aid to families.

Hours after Primark's announcement, Canadian counterpart Loblaw has also publicly acknowledged it used a manufacturer in the poorly-constructed Bangladeshi building and said it will pay compensation to the families of victims.

"We are working to ensure that we will deliver support in the best and most meaningful way possible," company spokeswoman Julija Hunter said following the meeting with other companies and the Retail Council of Canada's Responsible Trade Committee. "Our priorities are helping the victims and their families, and driving change to help prevent similar incidents in the future."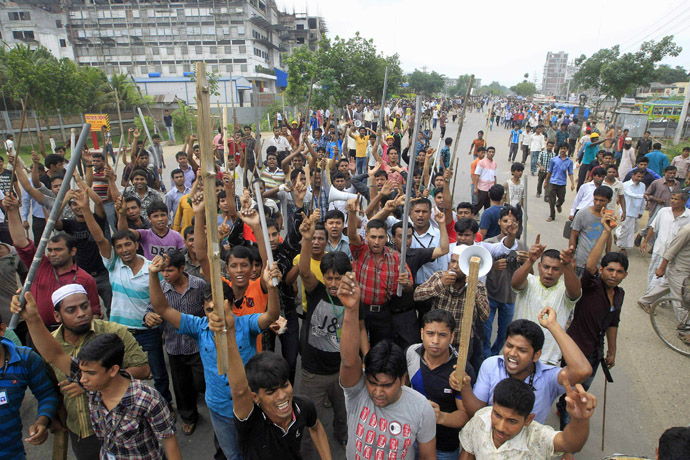 The company has assured that it was working with other retailers to support local efforts and provide aid in Bangladesh and said it will also send senior officials to Bangladesh to get answers as to what caused the collapse.
Meanwhile, the National Garment Workers' Federation, which has been fighting
"for many years for workers in the garment industry to be able to work safely," has called on Primark, Matalan and Mango to pay compensation to victims' families and to sign up to the Bangladesh Fire and Building Safety Agreement to prevent future deaths of garment workers. A petition drawn up by the trade union has received nearly 600,000 signatures.
So far, Primark and Loblow are the only two companies to come forward and offer help to hundreds of Bangladeshi workers and their families. But despite numerous Western companies make huge profits by using workers in factories like the one that collapsed, not all of them hasten to help out. Few seem ready to acknowledge they used a foreign labor force.
Thus, the Italian retail multinational Benetton that initially denied any links with the business in Bangladesh has admitted it had been supplied for a one-off order by one of the factories in the building.
At the same time, New Wave Bottoms, one of the manufacturers based at Rana Plaza, listed Benetton as a client. Labor rights activists also said they found documents linking Benetton to the factory.
Worried that Western firms could go over to different manufacturers, Bangladeshi textile bosses met representatives of at least 30 leading brand names such as Walmart, H&M and Gap in a bid to assure them about safety standards, AAP news agency reported.

The manufacturers and buyers agreed to form a joint panel to come up with a firm safety action plan, the news agency said referring to the announcement made at the end of the meeting.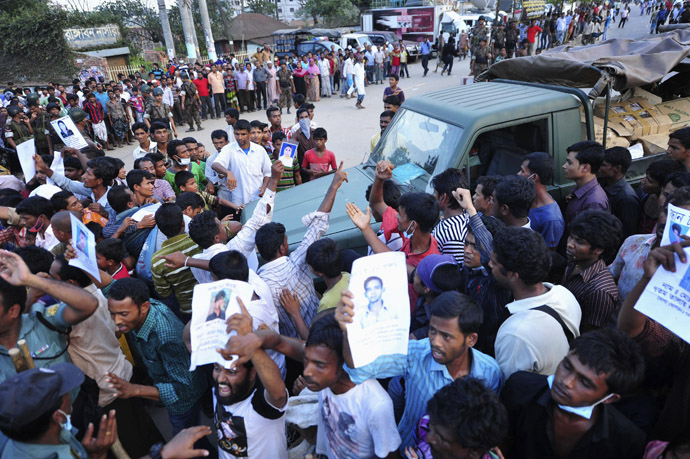 Some 2,500 people have been rescued from the rubble of the plaza, which officials said had been built on swampy ground without the correct permits. Emergency workers say there is now little hope of finding anyone else alive. More than 3,000 workers - most of them young women – arrived to their work places in the building on Wednesday morning, despite management warning that it was unsafe.
On Sunday the building's owner, Sohel Rana, was arrested by Bangladeshi paramilitary forces as he attempted to cross the border into India. Also four factory bosses, two engineers as well as Rana's father, Abdul Khalek, were detained. Police are currently looking for a fifth factory boss, David Mayor, who they say is a Spanish citizen.
After police produced Rana and the factory owners in court, a  two-judge panel has asked the government to "immediately" confiscate Sohel Rana's.  Central bank was also asked to freeze the assets of the owners of the five garment factories in the building, saying that the money should be used to pay the salaries and other benefits of the workers.

Bangladesh's garment industry is ranked the second-largest in the world after China and is worth $20 billion. However, working conditions there are said to be extremely poor. The industry has been blighted by hundreds of deaths since 2006.

A fire at another factory last November in the industrial hub of Ashulia killed 212, and was considered the deadliest incident in years in Bangladesh. The garment factory was making clothes for a range of international retailers such as Walmart, Disney, Sears and French company Teddy Smith. Some of them claimed they stopped doing business with the manufacturer after the fire.

You can share this story on social media: