Disney, Sears and other global retailers implicated in Bangladesh factory tragedy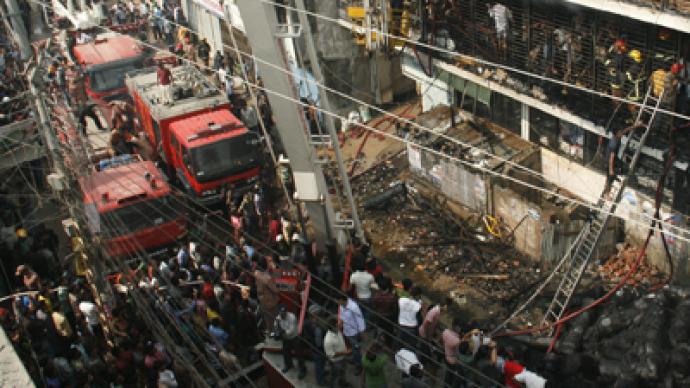 Major US and international retailers, including Disney and Sears, are implicated in the Bangladesh factory fire that claimed the lives of 121 people. Evidence of clothing clearly labeled with various big name brands has been found among the debris.
On Wednesday an Associated Press reporter found garments with logos of a host of brands, including Disney, Sears' Faded Glory and French company Teddy Smith, as well as account books depicting many retailer names.The garment factory was apparently making clothes for a range of international retailers, some of which claim they had already stopped doing business with the manufacturer.
The confusion over whether the Tazreen Fashions Ltd. Factory continued to make clothes without authorization is putting an even bigger spotlight on dangerous workplace conditions around the world.WalMart has stated it had considered the factory to be of "high-risk" at one point and had then terminated the agreement. However, it said a supplier had continued to do business with Tazreen without authorization.Sears said it only learned after the blaze that its merchandise was being produced there without its approval. It has since fired the vendor responsible. Disney said the factory did not have a valid license to produce Disney brand clothing for at least a year.Big international retailers such as WalMart have clauses whereby all information pertaining to their products for sale must to be disclosed.
Industry insiders believe it is illegal and unauthorized subcontracting that is hurting the business.According to Josh Green, chief executive of a New York-based firm that tracks shipments for factories outside the US, the problem isn't easy to solve as many suppliers cut corners in order to make goods cheaper for the customer."You have relentless pressure that consumers put on retailers and that retailers put on their suppliers to deliver lower and lower prices and that pressure is a key reason why you see factories cutting corners."Bangladesh's clothing production industry is only second to China's in exports. Exports of ready-made clothing, garments and textiles make up to 80 per cent of the total exports of Bangladesh.
The country has more than 4,000 clothing factories which employ over 3 million people.But the industry has been blighted by over 300 deaths since 2006, as safety at the workplace is neglected in favor of more, cheaper products.Labor activists say companies protect their brands legally, but do not provide the same for workers. Director of the Institute for Global Labor and Human Rights, Charles Kernaghan believes nothing will improve until they do.On Tuesday the government announced a day of national mourning due to the incident. National flags flew half-mast in all government buildings. Some 300 clothing factories in the country stayed closed.Dhaka Police suspect the fire was caused by arson carried out by a local woman, who was caught by CCTV cameras. The woman who has a history of attempted arson was reportedly arrested.
Meanwhile, thousands of people in the capital Dhaka continued to protest inhumane working conditions, demanding punishment for those responsible for the factory fire tragedy.At least 20 people were injured on Wednesday as protesters clashed with police in the capital's industrial suburb of Ashulia.Police have since arrested three factory managers accused of locking the doors and preventing workers from leaving the facilities.
The fire at the eight-story building of the apparel factory started on the first floor, quickly cutting off all three exits from the building. Survivors stated later that at least one exit was locked while no emergency exits existed in the building whatsoever.In absence of a central fire-extinguishing system, portable fire-fighting appliances turned out to be out of commission, present only to impress firefighting inspectors. Moreover, when the fire alarm went off, the shift supervisors told seamstresses to return to their sewing machines.Some people tried to escape the fire by jumping out of the windows of upper floors – many of them died. Others choked to death in the thick smoke of burning fabrics. Many of the bodies the firefighters found in the ruins were burnt beyond recognition.Later it was estimated that more than 1,000 people could have been inside the building when the fire started.According to the most recent official figures, the number of victims in what became the deadliest fire incident in years in Bangladesh has reached 121 with dozens more injured.