Factory managers arrested for not letting people escape deadly Bangladesh fire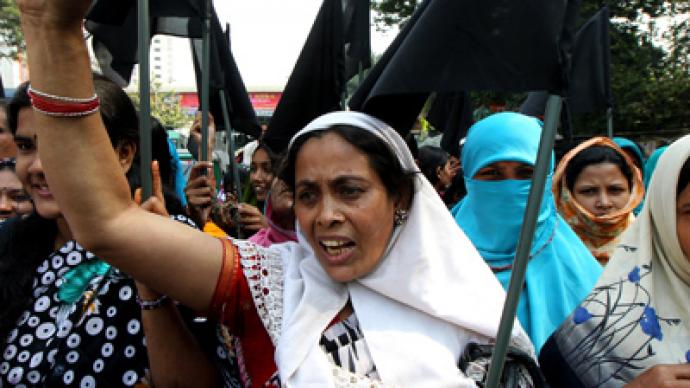 Three managers at a Bangladesh clothing factory have been arrested. They are accused of locking the doors and preventing workers from leaving the facilities during a massive fire that left over a hundred dead.
"All three are mid-level managers of Tazreen. Survivors told us that they did not allow the workers to escape the fire, saying that it was a routine fire drill. There are also allegations that they even padlocked doors," Habibur Rahman, head of police in the capital Dhaka was quoted by AFP.Dulal Uddin, an administrative officer, Hamidul Islam, store room head, and Al Amin, a security officer in charge at the time of the Saturday evening blaze, apparently told workers of Tazreen Fashion that there was no reason to worry when the fire started.The arrests come as thousands of people in the capital Dhaka, continue to protest inhumane working conditions demanding punishment for those responsible of the factory fire tragedy. At least 20 people were injured on Wednesday as protesters clashed with police in the capital's industrial suburb of Ashulia. Authorities had to close some 300 factories in the area following the massive fire and subsequent public protests.On Saturday, the fire broke out on the ground floor of Tazreen Fashion as hundreds workers were upstairs working a late shift. The factory building, which was not equipped with a single fire escape, turned into a death trap for more than a hundred of workers, some 150 were injured.About 1,400 workers were at the plant when the accident happened, around 70 per cent of them were women. It took firefighters five hours to extinguish the massive fire.
You can share this story on social media: