Arrests, protests as Bangladesh building death toll rises to 352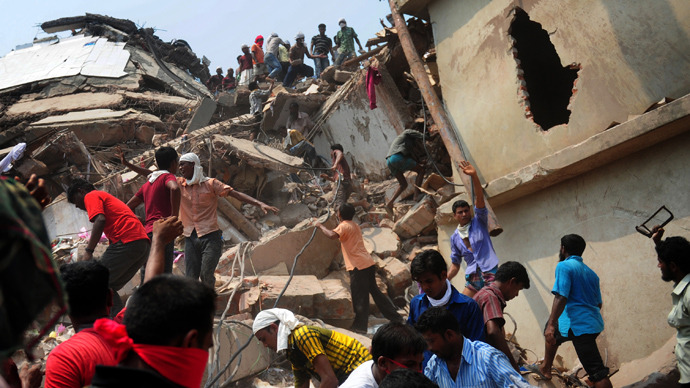 Two engineers and two factory owners of the badly constructed building that collapsed in Bangladesh have been arrested. The worst tragedy to ever hit the country's garment industry killed 352 people; up to 900 workers may still be missing.
"They can be rescued by today. We will be able to bring them out after we cut seven more iron rods," rescue official Mohammad Sarwar Hossain said.
Rescue operations to find more survivors are expected to continue. However, there are fears that even if survivors are still alive 72 hours after the tragedy, they may be badly dehydrated.
An estimated 2,419 survivors have been accounted for. On Saturday, search crews managed to pull 19 survivors out of the rubble, after 40 were found late Friday.
"There are many [survivors] still there," fire official Subrata Sarker told AP.
Another rescue worker said he saw 15 people still alive. Many of the trapped workers were so badly injured they needed to be removed within a few hours, and given with dried food, bottled water and oxygen.
'Profits before people'
It is unclear how many workers were inside the factory when it collapsed. According to local police, they ordered an evacuation of the building on Tuesday after detecting cracks in the building. However, the bosses of Rana Plaza ignored the order and the building collapsed the next day, on Wednesday morning.

"It's nothing new for Bangladesh," American trend forecaster and publisher of the Trends Journal, Gerald Celente, told RT.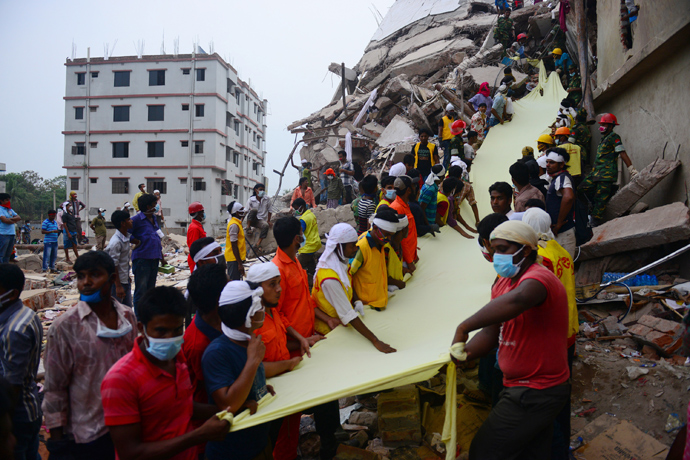 "It's an international trend that we see growing more and more as profits are put before people. People are more expendable. So it's just a lot of talk that you hear from these companies in the West, for example, that say they watch the standards going on in the sweat factories around the world. They just show. There's really no security, really no hard institutions in place that are monitoring these kind of factories," Celente said.

Hundreds of the employees – paid $38 a month to produce low-cost clothing for Western brands – were killed by massive blocks of concrete and mortar falling on them.

The top three floors of the eight-story Rana Plaza, which employed 3,122 workers, were illegally constructed, according to media reports. An arrest warrant has been issued for the owner of the factory, Mohammed Sohel Rana, a local leader of the ruling Awami League's youth front. His wife has been detained for questioning. Rana's arrest was reportedly ordered by Prime Minister Sheikh Hasina.
'It felt like I was in hell'

"It was so hot, I could hardly breathe, there was no food and water. When I regained my senses I found myself in this hospital bed," Marina Begum told reporters while in hospital. The 22-year-old survivor was trapped inside the collapsed factory for three days. "It felt like I was in hell," she added.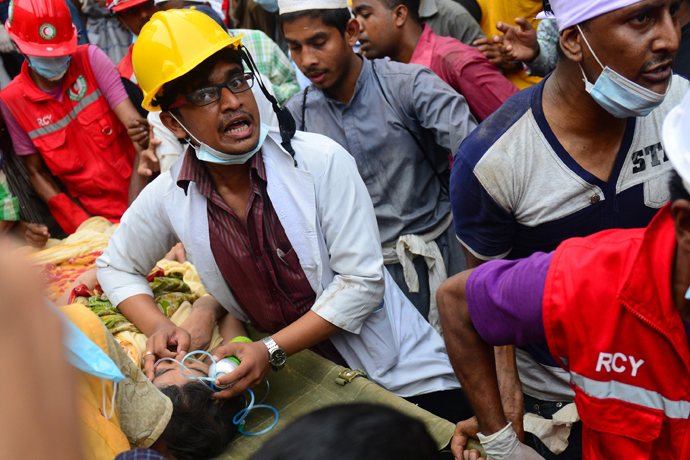 "We must salute the common people who dared to enter the wreckage to rescue them, as even our professionals didn't dare to take the risk," Mizanur Rahman, deputy director of the fire service, told Reuters.

Fears turned to grief for many as they anxiously awaited news of their loved ones. Abul Basar burst into tears over his missing wife, who worked in one of the garment factories. "My son says that his mother will come back some day, she must return," he told AP.

Rescue teams went in from seven entry points gouged into the rubble, often returning with badly decomposed bodies covered in cloth and plastic. The bodies were kept at a nearby school before being handed over to relatives armed with photos of their missing family members.
North American and European chains, including British retailer Primark, acknowledged they were supplied by factories in the Rana Plaza building. Many other retailers distanced themselves from the disaster, saying they were not involved with the factories at the time of the collapse or had not recently ordered garments from them, AP reported.
Wednesday's collapse was the third major industrial incident in five months in Bangladesh, raising concerns about worker safety and low wages in the South Asian country, which is one of the largest exporters of garments in the world after China and Italy. A reported 60 percent of Bangladeshi garment exports are to Europe.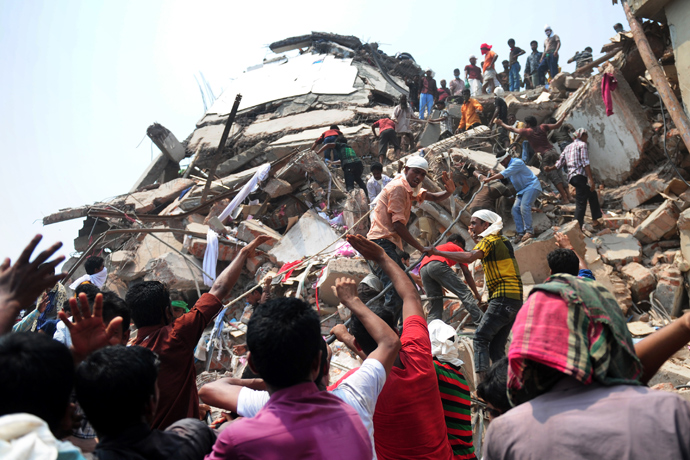 Public outrage over the poor working conditions of Bangladesh's 3.6 million garment workers, most of whom are reportedly women, has triggered a wave of protests.
Hundreds took to the streets on Saturday, burning cars and disrupting traffic as police formed a cordon around the site of the tragedy. The protests reportedly spread outside Savar, the Dhaka suburb where the collapse occurred.

You can share this story on social media: