September HSBC Manufacturing PMI remains weak
Published time: 3 Oct, 2011 07:30
Edited time: 3 Oct, 2011 11:32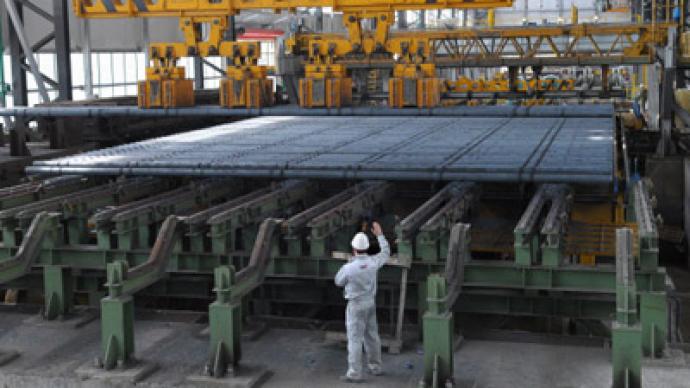 Russia's manufacturing sector continues to teeter on the edge of contraction with the HSBC Manufacturing PMI for September coming in at 50.0.
Readings below 50 point to contraction with readings above to expansion for the HSBC PMI, with readings above pointing to expansion, for the survey which covers new orders, output, employment, suppliers' delivery times and stocks of purchases. Coming in at exactly 50.0 for September, after a reading of 49.9 in August shows that Russian manufacturing has slowed markedly in 3Q after registering 54.8 in 1Q this year. Chief Economist (Russia and CIS) at HSBC, Alexander Morozov, says the results are ominous for the sector.
"Russian manufacturers face lasting stagnation, the HSBC Russia Manufacturing PMI survey shows. Companies have benefitted from a seasonal rise in new orders and still increase output moderately. Yet, in seasonally-adjusted terms, demand weakness has become more and more apparent, especially as far as external demand is concerned. Strong competition and demand weakness prevented most companies from raising output prices. Therefore, we expect low PPI growth in manufacturing in September."
Although the survey didn't signal an outright fall, after only reading of outright growth in the last 5 months the low growth in new orders points to continued weakness for the sector, with Morozov noting the weak external outlook is a key factor.
"Details of the PMI survey reveal two different groups of companies in the Russian manufacturing. One group that likely relies on domestic demand keeps expanding. But this group seems to be getting smaller over time. Another group, represented by exporters and some domestic producers, is already seeing falling demand and has reduced output. There is a risk that this group will increase in size.
Economic growth in OECD countries has been slowing down and the recession risk has increased. So the sustainability of external demand in Russia is predominantly based on demand growth from China and other Asian markets."