Final countdown: Merkel defends the euro ahead of the election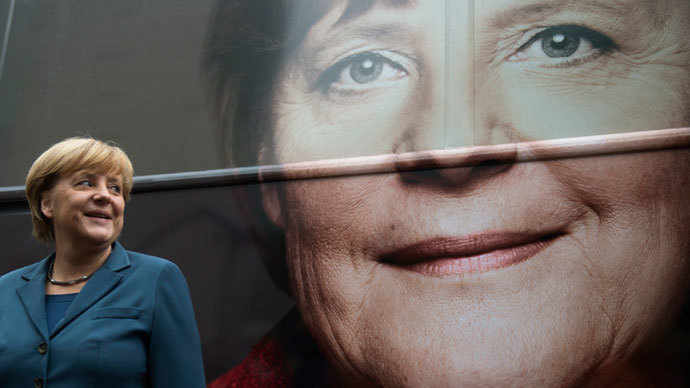 Angela Merkel's political Eurosceptic challengers maintain that the euro has failed. However, a week ahead of the general election Merkel told voters Germany's recovery success is proof the euro can drive growth and create jobs.
The woman who pulled Germany out of recession is Merkel's spin on the September 22 election, a campaign strategy which is widely expected to give the conservative a third term as Chancellor.

Despite many analysts having said the whole idea of the currency bloc has failed, Chancellor Merkel clearly defended the euro, speaking in Dresden to potential voters on Sunday.
"The euro secures our jobs, secures our prosperity – 50 percent of our exports are in the eurozone, 60 percent of our exports are in the EU," German Chancellor said.
What remains unclear is if Merkel will continue to fight for collective euro zone growth or if she will prioritize Germany.
"Germany will build Europe at its own pace and on its own terms. The others need to swallow and understand this," Ulrike Guerot, a German political scientists at the European Council on Foreign Relations, told Reuters.
"If they try to rush us, it will take longer," she said.
Germany is an anomaly in the crisis narrative, as its economy showed robust growth of 0.7 percent in the second quarter. The euro zone's biggest economy has certainly helped ease tension across  the recession – hit economies, but second quarter results may also be an anomaly, and more modest growth rates near 0.3 percent or 0.4 percent are more achievable.
Chancellor Merkel is loved at home for boosting the German economy, and she is resented by the rest of Europe who aren't experiencing the same rapid success. While Merkel remains an advocate of her austerity campaign that crippled bail out countries like Greece, Portugal, and Ireland, she has aptly avoided the unpopular subject on the campaign trail.
Bailouts have also caused Merkel a headache with German taxpayers, who feel like the burden of financial packages  is being passed onto them. Her opponent Peer Steinbrueck, who leads the Social Democrats, has tried to exploit this in his campaign.
Strong second quarter growth in the euro zone, led by Germany, all but saved Merkel's political career. The euro survived, and markets have calmed. But the crisis isn't over yet.
Peer Steinbrueck, who is also a former finance minister of Merkel's, says Germany needs a 'new beginning'. Steinbrueck opposes Merkel's handling of the euro crisis and warned against her government spending cuts.
European banking union is seen as a main driver for economic recovery and expansion in Europe. A central bank which will provide financial oversight for more than 6,000 banks and facilitate trillions of euros in cheap three-year loans and help restore credit-lending in southern Europe. 
Germany and France have both resisted handing over economic sovereignty to Brussels.
Germany still has its supervision over national savings banks, and France is also defiant on bank union treaties.
You can share this story on social media: