Size of a third Greek bailout? Merkel remains ambiguous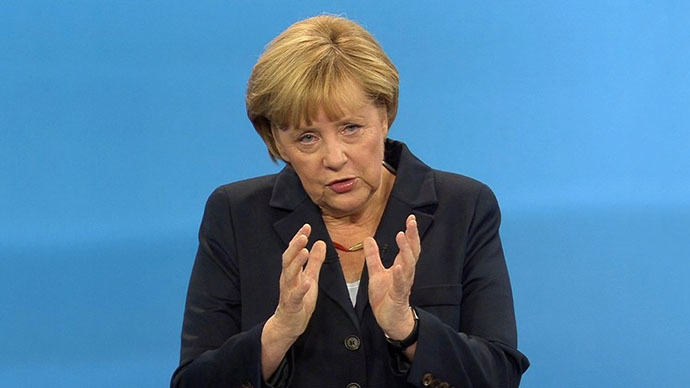 In a television debate Merkel danced around a third Greek bailout. She is largely expected to stick to a cautious stance on the issue ahead of the September 22 general election. Any additional packages for Greece are very unpopular with German taxpayers.
"It's possible that there will be a new aid package for Greece. Nobody knows how big," Merkel said in the televised debate on Sunday.
Though the size of a third bailout to Greece remains in question, the very issue of providing further financial aid to Athens seems to be a decided deal. Last week Merkel repeated Greece might need another money injection in 2014, though denying a further debt write-down.

Angela Merkel is selling herself as the person who led Germany out of the economic crisis that Greece initiated. The chancellor blamed her predecessor Gerhard Schroeder for letting Greece into the euro zone. However, since within the currency union, Greece's chances of receiving more financial aid from Germany are high. Merkel insists she will keep on pushing for reform in return.
"My job as chancellor is to ensure that the reform pressure on Greece doesn't let up," Merkel said in the televised debate with opponent Peer Steinbrueck, who served as Merkel's first-term finance minister.
Steinbrueck said Germany needs a 'new beginning', however, Merkel's last few months in office have hinted a new economic beginning may have already arrived, as GDP expanded and manufacturing data hinted at sustained growth.
On Monday manufacturing figures for August showed an overall growth in Central Europe was again driven by Germany. HSBC Purchasing Manager Index (PMI)  -  a snapshot of business activity – was up to its highest reading in almost two years -  to 51.8. On a 100 – point scale a reading above 50 points to expansion.
German taxpayers have grown tired of financing the debt problems of their southern neighbors, and most strongly oppose a third restructuring of Greek debt.
"We can ensure the economy continues to move upwards," Merkel said. "Naturally the job isn't over. Naturally there are many worries and problems, but we have demonstrated that we can cope in a difficult period."
Any concrete statement from Angela Merkel will likely come after September 22. Merkel continues to lead the polls, and in a Forsa poll conducted immediately after the debate, she had 44 percent to her challenger's 43 percent.
Steinbrueck appeals to Germans who oppose continuing helping the troubled Greek economy out of a deep 6-year recession. Germany, Europe's largest economy, has been the largest creditor for economic crisis aid.
The International Monetary Fund has estimated Greece's third bailout package at roughly $14.7 billion (EUR11 billion) over the next two years.
Finance Minister Wolfgang Schaeuble announced on August 20 Greece's sovereign debt restructuring will require more EU aid in possibly a third bailout package.

Greece has so far relied on two bailouts from the Eurozone and the International Monetary Fund: the May 2010 loans worth 110 billion euros (US$147 billion), and the February 2012 bailout worth 140 billion euros (US$187 billion).
You can share this story on social media: