Germany cools talks about a possible third bailout for Greece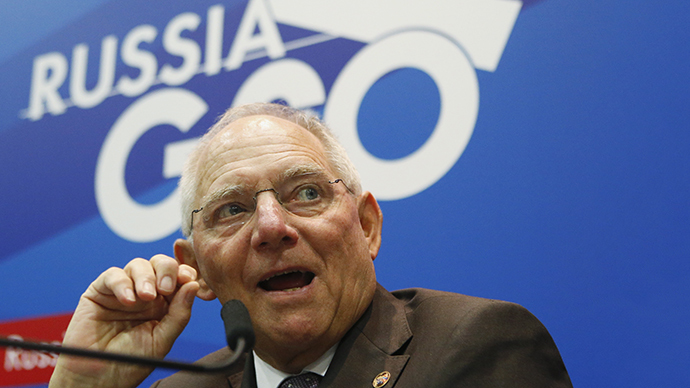 German officials have played down their finance minister's admission that Greece needed a third bailout, saying no exact decision has been taken. In pre-election campaign Schaeuble words were unpopular, as German voters are skeptical about more tranches.
"There is no new situation. Nothing has changed," Schaeuble's spokesman Martin Kotthaus said. "Our position remains that we will assess where Greece stands in 2014 and whether additional measures may be needed," as Reuters quotes spokesmen for German Finance Minister Wolfgang Schaeuble and his boss Angela Merkel.
In the meantime, the European Central Bank came to Athens on Wednesday to check up on the country's success  in  meeting its international bailout obligation.
The clarification comes shortly after Schaeuble unexpectedly admitted on Tuesday that Greece would need more financial help, because the $328 billion pledged so far won't be enough to save Athens from bankruptcy.
Schaeuble's surprise admission of this deeply unpopular prospect came at a sensitive time for his party. Germany will hold a general election on September 22.
As Europe's largest economy, Germany has so far been the biggest creditor for troubled European economies. The country's voters fear that any further bailouts and debt write-offs would translate into higher taxes and bite deeper into their pockets.
"There will have to be another program in Greece,"  Mr. Schaeuble said on Tuesday to an audience of roughly 250 people, many of them pensioners, in the town of Ahrensburg, which lies between Hamburg and the Baltic sea coast.
The subject of providing further financial assistance to Greece has of late been delicately avoided because the approach to Eurozone debt crisis is now one of the key differences separating Chancellor Angela Merkel's Christian Democrats from the main opposition Social Democrats.
Just hours before Mr Schaeuble spoke, his boss Angela Merkel was quoted in the media dismissing questions about further aid for Greece, saying there was no point in discussing the matter until its second package expires at the end of next year, the Telegraph reports.
Greek finance ministry officials say that any further help for Greece would be much smaller than the previous aid and will aim to cover its funding shortfall in 2014-2016, according to Reuters.
The International Monetary Fund has put Greece's uncovered funding needs for 2014-2015 at 10.9 billion euros. However, such estimates are revised frequently and are highly sensitive to budget and economic growth projections, the agency reports.
The 'Troika' of Greece's international lenders - the EU, ECB, and IMF will return to Athens this autumn to reexamine the country's progress in tackling its debt and whether the government needs to find further savings to meet its 2015-2016 budget targets.
The former Greek MP, Eva Kaili, in an exclusive interview to RT criticized the Troika lenders for 'experimenting in Greece' and hopes the same mistakes aren't repeated in other struggling economies.

Kaili believes Germany, along with the Troika of lenders, left Greece no choice in their recovery plan.

"They just tried to soak our country with these measures, without planning anything, without trying to implement the changes," Kaili told RT. She added, "Germany is the only one that makes decisions and this power game should be reset."

You can share this story on social media: