Eurozone GDP up 0.3% in Q2, marks first step out of worst recession on record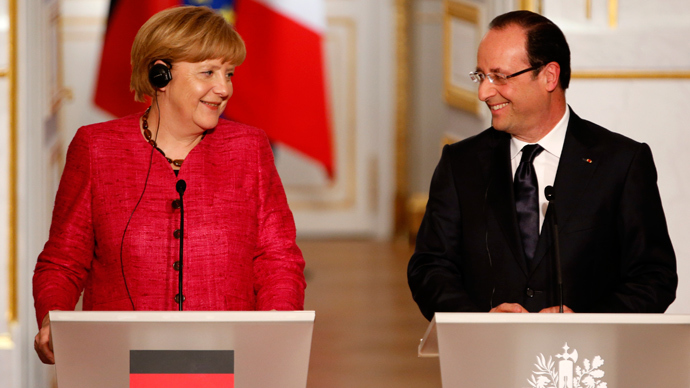 Second quarter growth picked up across Europe, ending an 18-month economic decline. Germany and France, the 17-nation bloc's largest economies, led in growth.
As forecast by Frankfurt-based Bundesbank, Germany posted robust 0.7 percent growth.

France, Europe's second-largest economy, followed with 0.5 percent growth, after contracting the last two quarters, according to the French national statistics office, Insee. This marked the best quarterly expansion since Francois Hollande took over as President in May 2012. However, unemployment in France is still at a 15-year high of 11 percent – some 3.2 million people.

The figures from Brussels have raised hopes world-wide that the economy is rising from the ashes of a record-long recession and finally entering a period of stability.

"The eurozone has been hauled out of recession and Germany has done the lion's share of that... But this rhythm can't be maintained. Growth will become more modest and in the second half of the year we should see plus 0.3 percent to 0.4 percent," Andreas Scheuerle of Dekabank, told the Guardian.
Economic confidence continues to rise, and an increase in manufacturing stimulates the economy on all fronts- more work, higher energy demand and more exports. In July, Chinese exports to Europe increased by 2.8 percent, an initial hint of improving consumer sentiment.

Eurostat data shows strong growth in the Czech Republic (0.7 percent), the UK (0.6 percent) Lithuania (0.6 percent), Latvia (0.5 percent) and Poland (0.4 percent).
Cyprus, Italy, Spain, Bulgaria and Sweden contracted. Data was not available for Greece or Slovenia, both high-risk economies within the euro zone.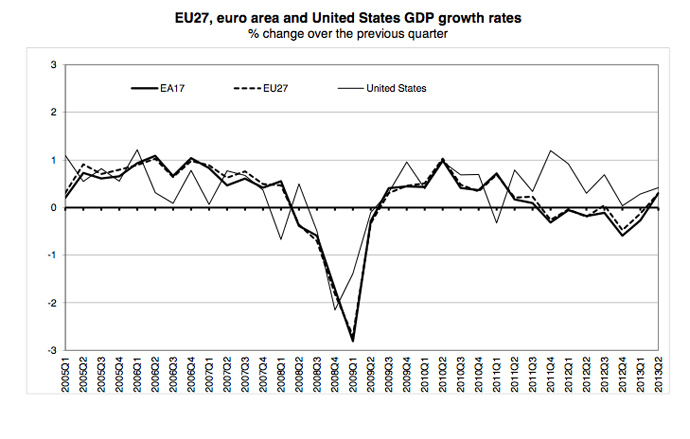 Hold the champagne
While there is plenty cause to celebrate the recovery, many of the southern periphery states remain depressed. Greece's economy, for example, contracted 4.6 percent year-on-year, and Cyprus, the most recent member state to negotiate a banking bailout, contracted 5.2 percent year-on-year.

"... this slightly more positive data is welcome – but there is no room for any complacency whatsoever. I hope there will be no premature, self-congratulatory statements suggesting the crisis is over," Olli Rehn, the European commissioner for economic and monetary affairs, wrote on his blog. 
Eurozone debt, in total, has swelled to $11.4 trillion (8.75 trillion euro), a great portion which is accounted for by the five bailout countries - Greece, Ireland, Cyprus, Spain, and Portugal.
You can share this story on social media: