Recession-proof: Germany to show 'immense' 2nd quarter growth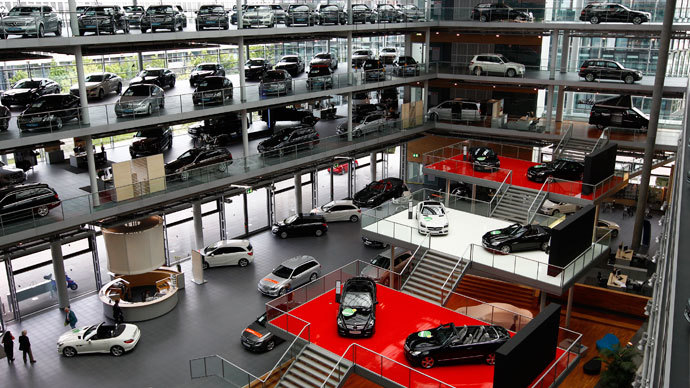 Standing out against its European neighbors knee-deep in recession, credit debt, and budget woes, Germany is an anomaly in the crisis narrative, as its economy showed robust growth in the second quarter.
Supported by industrial production, construction, and factory orders the German economy expanded in Q2, but is slated to slow down on falling exports and overseas sales, Germany's Bundesbank reported.
"Signs of a slowdown in economic growth are increasing," the Frankfurt-based bank said in its monthly report.
The report blames sluggish Q1 growth on 'persistent winter weather', which led to unexpected heating costs. If Germany's 'catch up' efforts are successful, Europe's largest economy could achieve economic growth of 0.3 percent (0.4 percent calendar-adjusted) in 2013, compared with 0.7 percent growth (0.9 percent adjusted) in 2012.
There was no further rise in unemployment, but growth was driven by industry and construction, as industrial output in April and May was, on average, 2.25 percent higher than in Q1 and construction rose 3.0 percent. By comparison, construction fell 2.1 percent in Q1 from the previous quarter.
Germany's statistic office won't officially publish any initial Q2 estimates for gross domestic product until August 14.
"Looking into the summer quarter, signs of a slowing down of economic growth are stronger," the German central bank said in the bulletin.

The sluggish pace of global activity has put a considerable damper on worldwide growth, but Germany's industrial-based economy has kept it competitive in international trade, and according to the bulletin, except further acceleration and demand for their industrial products. 
Last month, Bundesbank revised its forecast for Germany's growth over the next two years, slashing 2013 growth projection to 0.3 from 0.4 percent, and the 2014 forecast was cut from 1.9 down to 1.5 percent.
Germany's economy expanded at 0.1 percent after the first quarter, having fared better than its EU counterparts, but still struggling to cling to expansion, and not contraction.
Germany, along with Estonia, were the only euro zone countries which reduced their public debt in the first quarter of 2013. Germany pared its debt down to 81.2 percent of its GDP, and Estonia, which has the lowest debt in Europe, trimmed down to 10.0 percent, according to Eurostat data released Monday.

You can share this story on social media: