Russia breaks into top 5 world economies, displacing Germany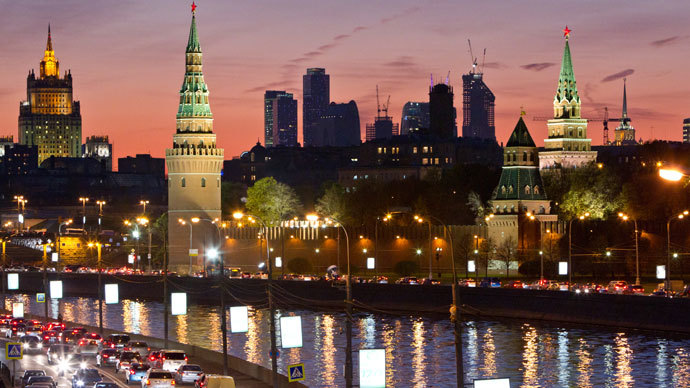 Russia has overtaken Germany as the fifth largest economy in terms of purchasing power parity, according to the latest World Bank ranking that measures 214 economies based on their 2012 GDP performance.
Russia's oil and export driven economy is ranked fifth amongst the top ten economies in the world with $3.4 trillion in GDP. In 2011, Germany surpassed Russia in GDP with $3.227 trillion compared to Russia's $3.203 trillion. In 2005, Russia was in eighth place.

RankCountryPurchasing Power Parity
1
United States
$15.6 trillion
2
China
$12.4 trillion
3
India
$4.8 trillion
4
Japan
$4.5 trillion
5
Russia
$3.4 trillion
6
Germany
$3.3 trillion
7
Brazil
$2.4 trillion
8
France
$2.4 trillion
9
United Kingdom
$2.3 trillion
10
Mexico
$2.0 trillion
The report was published last week in an annual ranking of GDP. The World Bank also updated their ranking of countries in terms of gross national product (GNP) per capita, grouping Russia in the 'high income' nation block, with individual yearly income of $12,616 or more.

The United States was ranked by the World Bank as the world's largest economy by purchasing power parity last year with $15.7 trillion, followed by China with $12.5 trillion, India with $4.8 trillion, and Japan with $4.5 trillion.

Prime Minister Dmitry Medvedev publicly lauded the advance on Monday, as did President Vladimir Putin, but warning his country still needs to be financially vigilant.

"The World Bank has concluded that Russia has the fifth strongest purchasing power in the world. According to this indicator, we are ahead of the Federal Republic of Germany. But we have a lot of areas that still need special attention," Putin said at a socio-economic meeting in the Sakhalin region, an energy rich Far East island north of Japan where Rosneft just put the final touches on a new drilling platform 'Orlan' in the Sea of Okhotsk. Sakhalin-1, a joint venture with Japan, India, and the US, has reserves of 2.3 billion barrels of oil and 485 billion cubic meters of gas. 
In June, the World Bank cut its growth forecast for Russia to less than 2.2 percent in 2013 and 3 percent in 2014, after revising January forecast the economy would grow by 3.6 percent in and 3.9 percent in 2014. This is the 'new normal' for lethargic global demand and momentum, according to the report's author Andrew Burns.

The World Bank rating differs from the International Monetary Fund, where Russia is listed as the eighth largest economy with a GDP of $2 trillion. The same matrix calculates the US GDP as the first with $15.7 trillion, China second with $8.2 trillion, Japan third with $6 trillion, Germany fourth with $3.4 trillion, France fifth with $2.6 trillion, the United Kingdom sixth with $2.4 trillion, and Brazil seventh with $2.4 trillion.

The purchasing power parity rate is determined on how many goods and services $1.00 can buy in different countries.

Rankings were only assigned to economies with confirmed PPP GDP estimates.

You can share this story on social media: