German trade surges, but no magic cure for recession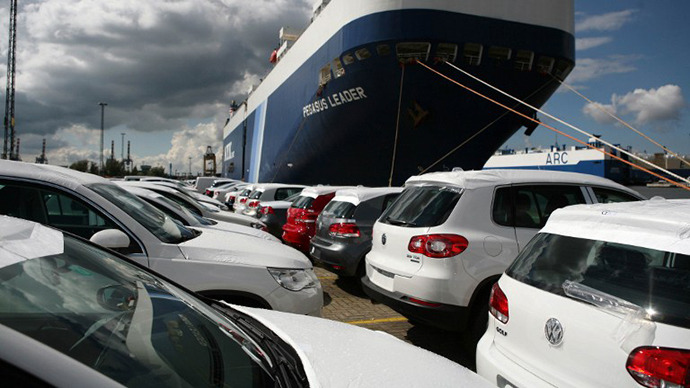 New data shows German imports climbed 2.3% from March to April, and exports also rose. The positive data shows Europe's largest economy gaining, contradicting the Bundesbank cut in growth forecast to 0.4% in 2013 and 1.5% in 2014.
Friday's data from the Federal Statistics Office showed imports jumped 2.3 percent, far outperforming the forecast of 0.5 percent.
Struggling neighboring Euro members have reason to celebrate Germany's success- they can harness the strong demand and boost growth through exports.
"This is good news. The April figures are significantly better than those for the first quarter," Commerzbank economist Ralph Solveen told Reuters.
Exports from Germany climbed 1.9 percent, also far outperforming expectations. Germany has been able to squeak through the recession because of its export market, as Asian and US demand for luxury cars have provided a buffer from recession plagued Europe.
The recovery story in Germany is a mixed bag. A survey published earlier this week showed manufacturing had declined slightly for a third straight month, unemployment slightly rose to 7.5 percent, and retail sales have fallen.
Germany's own Bundesbank cut its growth forecasts for Germany for the next two years, cutting its 2013 growth projection to 0.3 from 0.4 percent, and the 2014 forecast was cut from 1.9 down to 1.5 percent.
"Much will depend on whether the economic situation stabilizes in the euro-area crisis countries and whether expansionary forces will gradually gain the upper hand there," said Bundesbank President Jens Weidmann, Bloomberg reported.
Germany, with its luxury car flagship companies Mercedes, BMW, and Audi, has long been an export-oriented economy, but the government isn't only relying on exports to pull them through the recession. While demand in the US and Asia is still high, Europe, which accounts for 40 percent of its export market, is still stuck in slow motion.
The Federal Statistics Office data showed exports to the euro zone rose by 4.3 percent in April, while exports outside of European borders jumped by 13.6 percent.
European automakers typically close down factories for a two or three-week period in the summer, but this summer, so far BMW and Mercedes have announced they will skip the break. Even in the crisis, German carmakers continue to expand, and need to keep up with the hot overseas markets. 
Thursday, the European Central Bank decided to keep borrowing costs as low of 0.5 percent, opting not to further slash interest rates.
You can share this story on social media: