Pre-election talk: Merkel denies debt write-down for Greece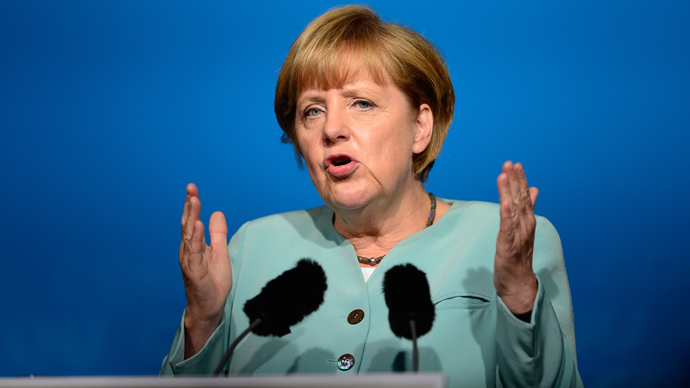 German Chancellor Merkel has spoken out against a debt write-down for Greece, adding a third bailout is possible from 2014. In the lead up to September's elections this is another German attempt to reassure voters Greece's rescue won't cost them more.
In an interview with Focus magazine, Merkel denied a write-down of Greek debt, but left the option open for additional bailout money.
The write-down "could trigger a domino effect of uncertainty with the result that the readiness of private investors to invest in the Eurozone will again fall to nothing," she said.
Merkel added that Greece's debt would be reviewed again in 2014 and "until then the country still has much to do and must continue consistently to implement its reforms."
Merkel's comments come after the country's Finance Minister, Wolfgang Schaeuble, caused a stir by admitting that Greece needed a third bailout, adding later though that no decision had been taken.
Schaeuble's statement came at a sensitive time for his party and his boss – Angela Merkel. Germany will hold a general election on September 22.
As Europe's largest economy, Germany has so far been the biggest creditor for troubled European economies. The country's voters fear that any further bailouts and debt write-offs would translate into higher taxes and bite deeper into their pockets.
Greek Finance Minister Yannis Stournaras also admitted that the country could need another bailout, adding that this time around the total will be "much smaller" than previous aid packages.
"If there is need for further support for Greece, it will be in the order of about 10 billion euros (US$13.4 billion), or much smaller than the previous programs," AFP quoted Stournaras as saying on Sunday to the Greek newspaper Proto Thema.
The next bailout would have to be "without new terms," Stournaras explained, as Greece's austerity commitments were already planned until 2016, adding that there was "no question" of a fresh cancellation of debt.
Greece has so far relied on two bailouts from the Eurozone and the International Monetary Fund: the May 2010 loans worth 110 billion euros (US$147 billion), and the February 2012 bailout worth 140 billion euros (US$187 billion).
In addition, the country's debt to private creditors was also reduced by 107 billion euros in 2012.
You can share this story on social media: