'Impossible to stomach': Merkel slams Irish bankers who fudged bailout figures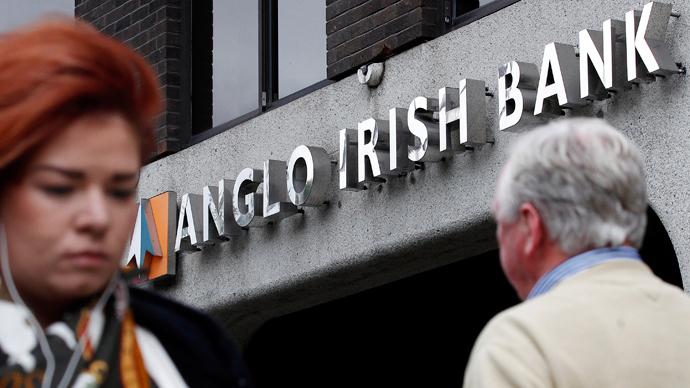 German Chancellor Angela Merkel has expressed outrage over the intrigue of the Irish bank executives who were caught on tape joking about an EU bailout whose rescue cost Irish and European taxpayers, particularly the Germans, 30 billion euro.
The internally-recorded phone calls, published earlier this week, reveal how two Anglo Irish bank executives misled the Central Bank of Ireland that Anglo bank required 7 billion euro to prevent its collapse. Anglo's losses reached 30 billion euro, nearly half of a total bank-bailout bill that forced Ireland to seek IMF bailout money.
The bankers also laugh at Germany's role in the Irish banking bailout as they are heard singing the banned prewar national anthem, reciting lines from 'Deutschland über Alles' ('Germany above Everything')
The bosses joked about their ability to convince lawmakers to invest in a bank they knew was failing, citing figures one said he had "picked out of my arse" - with no plans to repay the government. John Bowe, the head of capital markets for Anglo Irish, was recorded laughing as he explained to Peter Fitzgerald, the former head of banking, how Anglo Irish had fleeced the Irish government into providing billions of euro to keep the bank solvent.
"Yeah and that number is seven [billion euros], but the reality is that actually we need more than that," Bowe said. "But you know, the strategy here is you pull them in, you get them to write a big check and they have to keep – they have to support their money."
Their 2008 conversation, containing lewd language, was captured by the bank's internal recording system and published by the Irish Independent earlier this week.
Merkel said their cynical swindle was an affront to honest people.
"For people who go to work each day and earn an honest living, this kind of thing is very hard to take," she said Friday on the sidelines of a European Union summit in Brussels. "It's impossible to stomach."
Merkel remarked that the Irish bankers' conduct was damaging democracy, discouraging decision-makers from supporting European partners that ask for financial help.
The deputy leader of Merkel's Christian Democratic Union party described the recordings as "unbearable".
"We are offended. If you have a feeding hand you shouldn't bite into it [sic]," Michael Fuchs told RTE radio.

German Finance Minister Wolfgang Schaeuble also slammed the bankers, saying: "These bankers seem to like themselves in the role of aloof super humans who only have contempt for their fellow humans."
"Instead it is they who should get our contempt and to whose game we should put a stop," he said as quoted by Frankfurter Allgemeine Sonntagszeitung.
Irish officials promised to launch a state investigation into the actions of Anglo Irish Bank.

"I mean the degree of arrogance, the degree of hubris, the degree of couldn't-care-less-about-the-taxpayer, about the Irish people, that seemed to be part and parcel of the culture of that bank," Deputy Prime Minister Eamon Gilmore said.
He added that the disgraceful phone recordings could 'complicate' Dublin's negotiations in receiving crisis-relief funds.

The parliament's plan is to use 500 billion euro of the bailout money to recapitalize the country's banks. The recent scandal may derail this vision.
"It makes it more difficult, of course it does, but we're going to continue to work to get the best possible outcome for the Irish taxpayer," Gilmore remarked.
You can share this story on social media: