Market Buzz: Lusting for positive news
Published time: 7 Jun, 2012 05:30
Edited time: 7 Jun, 2012 10:22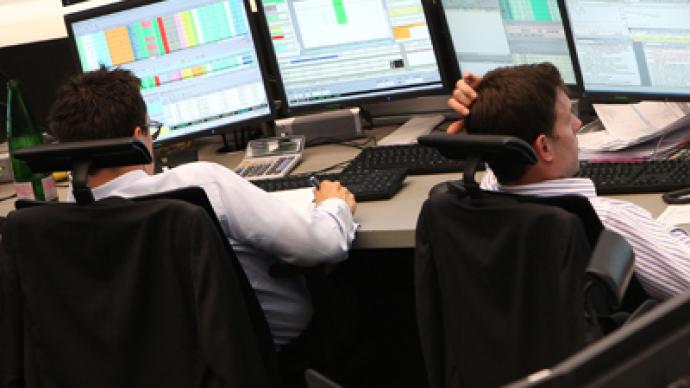 The global markets are poised for a higher opening, as investors focus on signs of urgent moves in Europe to rescue Spain's troubled banks and more stimulus measures from the US Federal Reserve.
"Investors have been showing sustained tolerance to risk which continues to grow amid the high uncertainty in Europe. The upside trend is to dominate at the markets on Thursday if no new negative signals show up", says Ilya Rachenkov from Investcafe. 

Asian stocks are higher in early trade on Thursday, as investors hope for US and European monetary easing to counter growing economic woes.
Japan's Nikkei Stock Average rose 1.6%, the South Korean Kospi was 2.8% higher, Hong Kong's Hang Seng Index jumped 1.4%, and the Shanghai Composite index inched higher 0.2%.
European stock markets rallied Wednesday as investors shook off the European Central Bank's decision to leave policy unchanged and concentrated on signs in Europe of intention to rescue Spain's banks and more stimulus measures from the US Federal Reserve.
Economic growth in the US picked up over the last two months and hiring showed signs of a "modest increase," the Federal Reserve said in its latest "Beige Book" summary of business activity covering the period between early April and late May.
"Overall economic activity expanded at a moderate pace,"
the central bank said on Wednesday in an overnight report that ran counter to a growing sense of economic gloom.
Against the background of comments that the European Financial Support Fund is preparing a credit line for Spain, the American ISM index non-manufacturing and GDP of Australia turned out a lot better than expected, the mood of the investors began changing.
The banking gains helped lift the UK's FTSE 100 index 2.4%. Though the ECB's decision to leave key rates unchanged at 1% did not add optimism.
"Even though we didn't actually get an interest rate cut or further stimulus from the ECB today, they extended the LTRO program to give European banks more wriggle room.  Optimism rippled through investors as they started to believe that things have got so back that there will at some point soon be coordinated action from central bankers in an attempt to prevent another worldwide global recession,"
says Angus Campbell, Head of Market Analysis at Capital Spreads.
In Germany, Commerzbank AG rose 4.6%, shaking off a downgrade from Moody's Investors Services. Deutsche Bank AG added 3.7%, helping the DAX 30 index move 2.1% higher.
On the macroeconomic front, data showed Germany's industrial output declined 2.2% in April, deeper than analysts' expectations of a 1% decrease.US stocks rose on Wednesday on speculation global policy makers will take steps to stimulate economic growth.
The Dow Jones industrial average was up 2.37%. The Standard & Poor's 500 Index rose 2.30%. The Nasdaq Composite Index was up 2.40%.
In Russia the rouble continued to rebound on Wednesday, helped by higher oil prices. Russian stocks were up, with investors awaiting possible stimulus measures by Western central banks.
The stronger rouble lifted the dollar-denominated RTS index of Russian stocks, which rose by 2.5%. The MICEX added 1.25%.