Market Buzz: Too many dissapointing news to digest
Published time: 4 Jun, 2012 05:58
Edited time: 4 Jun, 2012 12:05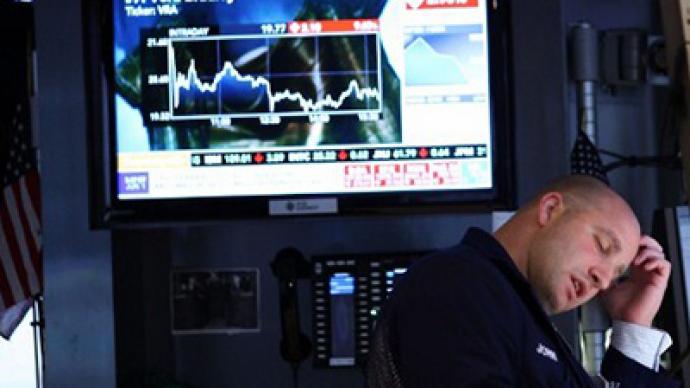 Asian markets are seeing losses in early trade Monday as investors took their first chance to react to disappointing U.S. jobs data that added to worries about Europe's debt crisis.
Analysts say the negative sentiment is likely to dominate the global markets.
"Investors have too many disappointing news to digest that accumulated over the week, and at the same time they look forward to any indication of a mend to the ailing global economy. The general sentiment is rather negative, however, it's hard to say who will be more pushy- bears or bulls,"says Ilya Rachenkov from Investcafe.
Spanish Prime Minister Mariano Rajoy on Saturday called for the establishment of a central authority that would oversee and coordinate fiscal policy in the euro zone. While his comments may signal more urgent push for a fiscal union in the euro zone that may be not enough to cheer up the markets.
The global stocks finished last week on a downbeat note, with most indices plunging on Friday after disappointing jobs figures from the US coupled with a grim economic news from the UK, Europe and China sent investors on a selling spree.
The Russian markets' downtrend gained momentum by Friday with the dollar-based RTS index seeing steep losses as the Russian currency hit its record low against the dollar.
After a volatile week, the US markets totally shook off their early week optimism on Friday after market players digested another round of disappointing data. The Dow Jones industrial average fell 2.7 percent on the week, the Standard & Poor's 500 index slid 3 percent and the Nasdaq composite index fell 3.2 percent for the week. Facebeook shares ended the week sharply lower, with the stock losing over $23 billion of market cap since its IPO.
The Asian markets were mixed on the week for a net loss of 0.6%. The European markets were all lower on the week losing 3.7%.
Added to the Euro zone's problems, modest purchasing managers' index (PMI) numbers were released by Europe after a bleak PMI reading from China, and followed by one of the worst US payrolls report of the past year. An index of homebuilders fell 10%, the most since August, on worse-than- expected housing data.
All eyes will be on Wednesday's ECB meeting, and whether a mass selloff of peripheral European government debt by investors in May and a flight into safe-haven US Treasuries and German government bonds will prompt it to act. Also, Federal Reserve Chairman Ben Bernanke will be back on Capitol Hill on Thursday to testify before a congressional committee about the state of the U.S. economy.