Market Buzz: Surfing the European wave
Published time: 30 May, 2012 05:43
Edited time: 30 May, 2012 09:43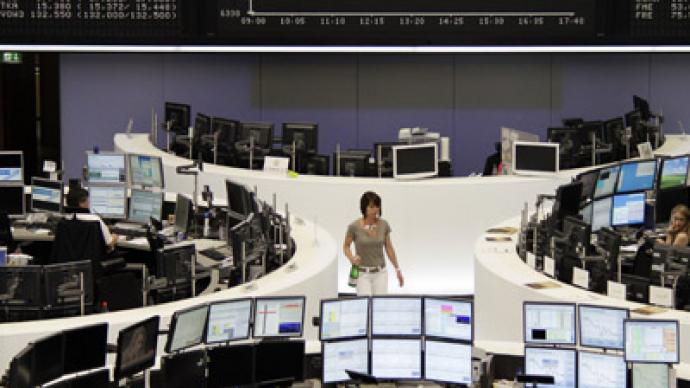 Investors in Russia keep watching Greece, as well as reacting to oil dynamics.
Among strong market drivers on Wednesday will be the May index for eurozone business climate, which is generally expected to stand at -0.66 points. "This may cause a negative response in the European stock market," says Kirill Markin of Investcafe.
IFRS financial statement of Russia´s biggest lender Sberbank's for 1Q 2012 will be the key domestic corporate news, Markin added.
Russian markets finished Tuesday's session in an upbeat sentiment. The MICEX was up 2.82% to 1,327.08, with the RTS gaining 2.37% to stand at 1,307.37.
Investors in the country were inspired by the announcement from the head of the European Investment Bank Werner Hoyer, who said Greece will be able to remain a member of both the EU and the eurozone.
"Greece will have the opportunity to solve huge problems that it is facing. Continuing support from the EU will contribute to this, in case, of course, the very Greeks would want that," Hoyer said.
"Stable world oil prices, as well as positive dynamics of the futures for the American indices added optimism to 'bulls'," said Ekaterina Kondrashova from Investcafe.
WTI remained slightly above $90/bbl, with Brent Crude standing at $106.37/bbl.
The US stocks were up in Tuesday session in spite of the weaker-than-expected report on US consumer confidence and continued declines in home prices. The Conference Board, a private research group, said that its Consumer Confidence Index fell to 64.9 from 68.7 in April. The Case-Shiller 20-city Index, which tracks home prices, fell at a 2.6% annual rate in March, after falling at a 3.5% rate in the prior month. Economists had expected the index to have slipped 2.8%.
Wall Street, reopening after a three-day holiday, posted gains. The Dow Jones industrial average rose 1% to 12,580.69. The Standard & Poor's 500 index rose 1.1% to 1,332.42, with the Nasdaq composite adding 1.2% to 2,870.99.
European stocks also closed higher. Britain's FTSE 100 added 0.6%, the German DAX was up 1.2% France's CAC 40 climbed 1.3%.
In Asia, increasing concern over Spain's worsening financial condition and a report that China has no plans for a major economic stimulus dragged Asian stock markets lower Wednesday morning.
Japan's Nikkei 225 index fell 1% to 8,571.90 and Hong Kong's Hang Seng tumbled 2.1% to 18,642.37. South Korea's Kospi was down 0.9% to 1,833.09. Australia's S&P/ASX 200 lost 0.9% to 4,076.40 and benchmarks in mainland China, Taiwan and Singapore also fell.
Worries about Europe's financial stability worsened after US ratings agency Egan-Jones slapped Spain with a downgrade Tuesday because it may have trouble repaying its debt amid slowing growth and rising unemployment. Spain has a 24.4% jobless rate and is battling its second recession in three years.
Markets also reacted to a microblog posting by China's official Xinhua News Agency that said Tuesday the government had denied reports it planned a massive new stimulus program. However, that report was later deleted and no other Chinese media outlets carried it. Chinese leaders have recently indicated their intention to implement limited measures to help rev up the economy.