Market buzz: Signalling positive change
Published time: 5 Jun, 2012 05:45
Edited time: 5 Jun, 2012 10:32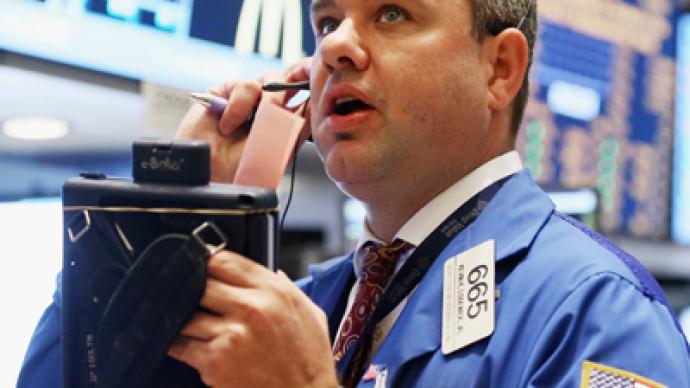 Markets across the world seem to be cautiously shifting to a more positive track, with the oil bourses starting to post modest gains. On Tuesday, key data on eurozone business activity and the G7 meeting will help investors to reflect.
May's PMI Composite report for the eurozone will be a crucial indicator of activity in the region. No big change is expected, with the index likely to remain at the April reading of 45.9, according to Pavel Emelyantsev of Investcafe.
Also, words from key world financial authorities will drive the floors in Tuesday trading. IMF chief Christine Lagarde, EU Commissioner Olli Rehn and European Central Bank official Jörg Asmussen are all expected to come out with speeches by midday, Moscow time.
Tuesday's main event, however, will most likely prove to be the G7 meeting, says Emelyantsev. "All investors' attention will be focused on the announcements from its participants, especially US traders, as it starts at 19.00 Moscow time," when Russian bourses finish their daily trading.
Asian stock markets rose modestly Tuesday as a respite from major bad news gave investors the pluck to get back into riskier assets. Traders brushed aside disappointing US factory orders as falling bond yields for Spain and Italy boosted confidence that Europe can avoid a messy breakup of its currency union.
Japan's Nikkei 225 index rose 0.6% to 8,345.56. Hong Kong's Hang Seng added 0.9% to 18,339.31 and South Korea's Kospi gained 1% to 1,800.03. Benchmarks in Singapore, Taiwan, mainland China and Indonesia also rose.
In Europe, bond investors appeared less concerned about the finances of some of the region's financially troubled countries. Bond yields fell for Italy and Spain, meaning that they appear less likely to default as lower bond yields translate into decreased borrowing costs for those debt-strapped nations.
Russian stocks finished Monday trading in an upbeat sentiment. The RTS rose 0.96% to end at 1,239.46, with the MICEX going up 0.6% to 1,305.86.
All that might be coming from cautiously recovering oil markets, experts believe. WTI is up 0.89% to $84.8/bbl, while Brent adds 0.57% to $99.5/bbl. Benchmark oil for July delivery was up 87 cents to $84.85/bbl in electronic trading on the New York Mercantile Exchange. The contract rose 75 cents to settle at $83.98 in New York on Monday.
Energy companies were among the market leaders in Russia's Monday trading. The country's leading natural gas producer Novatek added 3%, with the oil and gas major Surgutneftegas going up 2.4% and Gazprom increasing 2.2%.
Another Russian oil giant, Rosneft lost 0.9% however, with the country's banking major Sberbank going down 0.96%. Truck maker KAMAZ was also among the market losers, dropping 2.9% during the day.
Global markets were affected on Monday by fears of a US recession after the country's disappointing employment report – the most important economic monthly indicator.
American employers added just 69,000 jobs in May, the lowest in a year, and the unemployment rate increased to 8.2% from 8.1%. This compares to the expert forecast of 158,000 new jobs.
Adding to the evidence of a slowdown, new figures released by the US Commerce Department Monday showed companies placed fewer orders to American factories for the second straight month in April. Orders for manufactured goods dropped 0.6% during the month, while economists had forecast them increasing by 0.2%.
The Dow closed down 17.11 points, or 0.1%, at 12,101.46. The Standard & Poor's 500 index rose a fraction to 1,278.18. The Nasdaq composite went up 12.53, or 0.5%, to 2,760.01.
In Spain meanwhile, investors are watching government action to boost the finances of some of the country's ailing banks. The worry is that authorities are already strapped for cash and might be overwhelmed by the costs of rescuing the institutions. Spain might have to tap European Union rescue funds, but is reluctant to do so because such aid would come with conditions for the government's policies.
Meanwhile in Cyprus, the Central Bank governor said the country is struggling to find €1.8 billion to inject into its second-largest lender, Cyprus Popular Bank, by a June 30 deadline. That means it is increasingly likely to accept EU rescue funds. The chairman of Cyprus Popular Bank also suggested an EU loan now seemed more probable.
European stocks closed mixed on Monday. The DAX in Germany fell 1.2%, while France's CAC 40 rose 0.1%. British markets were closed for a bank holiday.