Market Buzz: Stocks continue to climb after yesterday's rally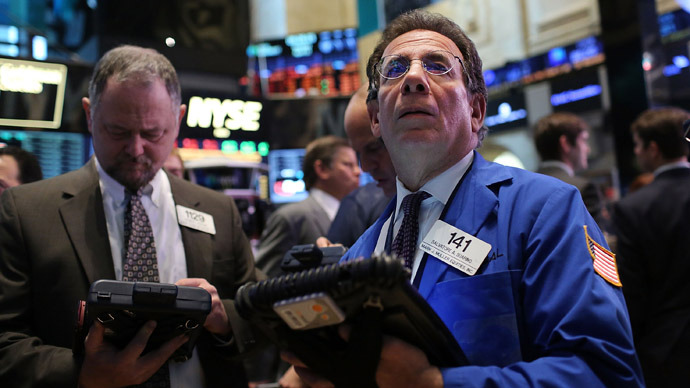 Russian stocks are expected to open slightly higher on Thursday with a positive outlook from Asia and growing oil prices. Later in the day, stocks may face a correction after weaker-than-expected US data released late Wednesday.
Russian floors ended April 24 in the black: The MICEX climbed 2.77% to 1,377 and the RTS rose by 3.11% to close at 1374.1.

European stocks extended Tuesday's gains on the prospects of an ECB interest rate cut next week following weaker-than-expected manufacturing data from Germany. London's FTSE 100 climbed 0.40% to close at 6431.76, Frankfurt's DAX 30 added 1.32% to 7759.21 and the French CAC 40 rose 1.58% to 3842.94 points.
Today, investors in Europe will be awaiting a UK GDP update for the first quarter later in the day. Analysts expect GDP growth to stand at 0.3% year-on-year – 0.1% growth from the fourth quarter of last year.
US stocks traded mostly flat on Wednesday, as investors remained cautious over quarterly earnings updates from companies like Boeing and Apple, and poor durable goods orders data in March, which came in well below forecasts – orders declined 5.7% from February, while analysts expected a 2.9% decrease.
The Dow Jones slipped 43.16 points, or 0.3%, to close at 14676.30. The S&P 500 was flat, up a symbolic 0.01 points to close at 1578.79. The Nasdaq also remained unchanged, adding less than 0.1% to close at 3269.65.
Gains in Asia extended on Thursday. Hong Kong stocks rallied, leading other Asian markets on an increase in oil prices and a slight fuel price cut in China. Investors in the region will look to the Bank of Japan for further signs of stimulus ahead of the first BoJ meeting on Friday after the introduction of the country's new stimulus program.
Hong Kong's Hang Seng climbed 1.1% and Japan's Nikkei gained 0.5%. The Shanghai Composite lost 0.9% in a choppy trading session. Markets in Australia and New Zealand are closed for holiday on Thursday.
Oil is currently in the black, with Brent adding 0.3% and WTI up 0.4%.
You can share this story on social media: