Market Buzz: Floors to rally on positive sentiment in US, EU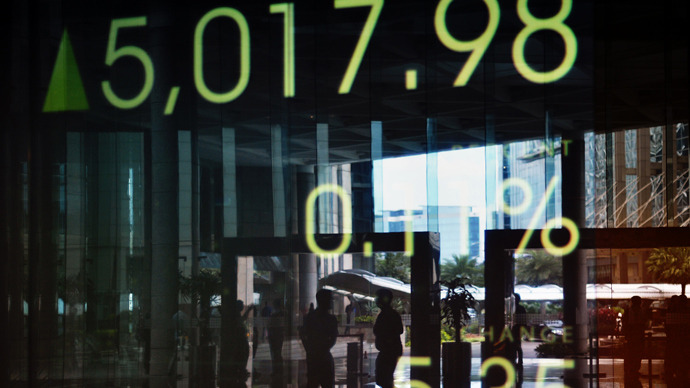 An improving outlook in Western nations will boost Russian markets as trading begins on April 24, and stocks will start the day in the black. However, traders expect a slight correction in the US in the upcoming days, which will hit Russia as well.
Russian floors ended April 23 in the black: By close of Tuesday's trading session, the MICEX rose by 0.23% to 1339.91 and the RTS added 0.36% to 1333.89. 

Macroeconomic news from the West did little to cheer investors. HSBC's PMI survey showed manufacturing activity in China slowing in April, adding to concerns about global economic growth. The Flash Manufacturing PMI for the eurozone slipped to 46.5 in April from 46.8 in March. The Flash Manufacturing PMI in Germany, the powerhouse of the EU's economy, was lower than expected at 47.9 in April, a four-month low that was down from 49.0 in March.
European stocks rallied on Tuesday following a successful debt auction in Spain, sending yields on peripheral eurozone government bonds sharply lower. Prospects that the European Central Bank will cut interest rates next month to support the weary economy buoyed the positive sentiment. Germany's DAX added 2.4% to close at 7,658.21, the CAC40 in France rose 3.6% to 3,783.05 and the FTSE 100 in the UK rallied 2% to 6,406.12.
Updates from the US released late Tuesday were mixed: Single-family house sales grew by 1.5% to 417,000, failing to reach a forecasted mark of 419,000, the US Commerce Department reported. However, this figure grew by 18% year-on-year, rising form 352,000 in March 2012. 
US stocks were thrown into a tailspin for a brief period on Tuesday after hackers took control of the Associated Press Twitter account and sent out a false tweet about explosions at the White House that had injured President Obama. The fake report caused a brief plunge on US floors. The Markit Flash US Manufacturing Purchasing Managers' Index also fell to 52.0 in April, its lowest in six months.
Despite disappointing manufacturing data from China, US investors focused on the encouraging earnings reports from the US, pushing stocks higher: The S&P 500 closed at 1,578.78, up 1%, the Dow Jones closed at 14,719.46, having added 1.1%, and the Nasdaq closed at 3,267.31, up 1.04%.
Asian stocks are trading higher on Wednesday on the news of US company earnings and housing sales. Japan's Nikkei 225 index jumped 1.8% to 13,772.98, rising above 13,700 for the first time in nearly five years. South Korea's Kospi added 1% to 1,936.83, Australia's S&P/ASX 200 climbed 1.4% to 5,087.90, Hong Kong's Hang Seng added 0.95% and the Shanghai Composite grew by 0.37%.
Oil is currently in the black, with Brent adding 0.35% and WTI up 0.63%.