Market Buzz: Investors look to Europe, US for drivers
Published time: 23 Apr, 2013 07:10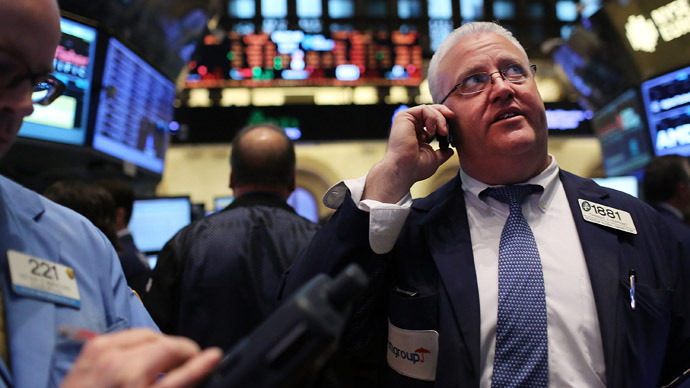 Weak data from China will likely drag stocks into the red at the opening of Tuesday's session. Investors are hoping that macroeconomic updates from Europe and the US will improve the economic outlook.
On Monday, Russian stocks posted slight losses following disappointing corporate and macroeconomic reports from the US. The MICEX ended its trading session 0.12% lower at 1336.84 and the RTS dropped 0.55% to 1329.14. 

European stocks traded mixed on Monday as traders balanced political progress in Italy with disappointing earnings and housing data from the US.
London's FTSE 100 ended Monday 0.09% lower at 6,280.62 points. In Paris the CAC 40 was flat at 3,652.13 points, and in Frankfurt the DAX 30 climbed by 0.24% to 7,478.11 points. Italy's FTSE MIB index demonstrated a major jump by 1.57% to 16,007.10 points on the surprise re-election of President Giorgio Napolitano over the weekend.
Investor concerns on slowing global growth due to weak Chinese manufacturing could drag down stocks in Russia and Europe at the opening of Tuesday's trading session. 
European traders will be eyeing the release of PMI manufacturing data from France, Germany and the eurozone later in the day. France will also issue an update on business confidence, Italy will release consumer confidence data and the Confederation of British Industry's industrial trends survey in the UK. 
The final terms of the Cyprus bailout will also be announced on April 23.
US stocks mostly closed Monday in the black: The Dow gained 19.66 points, or 0.14%, to 14,567.17, The S&P 500 grew by 7.25 points, or 0.47%, to 1,562.50 and the Nasdaq Composite added 27.50 points, or 0.86%, to 3,233.55. 
The US will see the release of PMI data from Markit manufacturing later on Tuesday, and an update on house prices and new home sales. Companies including Apple will also continue to report earnings.
Asian stocks mostly fell Tuesday on weak Chinese PMI data revealing slower growth. Hong Kong's Hang Seng dropped 0.90%, the Shanghai Composite slid 1.39% and Japan's Nikkei 225 fell 0.28%.
Markets in Australia and New Zealand posted gains: Australia's S&P/ASX 200 gained 0.90% while New Zealand's NZSE climbed 0.72%.
Oil is currently in the red with Brent trading 0.81% lower, and WTI down 1.04%.