Market Buzz: Banks' decision to keep interest rates and bond-buying stoke gains
Published time: 2 Aug, 2013 06:04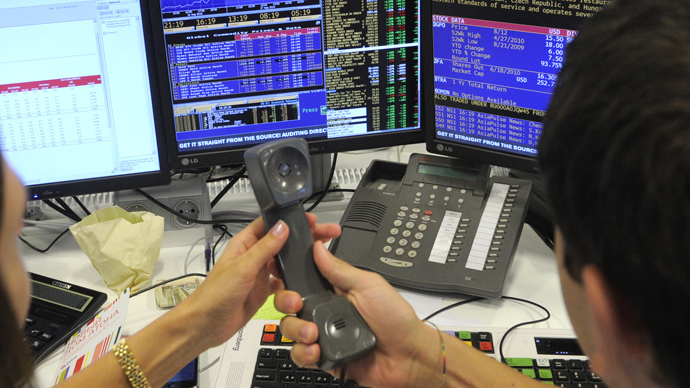 Russian equities snapped from a three day loss despite poor manufacturing data that showed the first contraction in two years.
The MICEX advanced 1.65 percent to 1,398.46, and the dollar-based RTS index climbed 0.15 percent to 1331.71.

Sberbank, Russia's state-owned and largest lender, was one of the leading equities, as it jumped 1.54 percent in day trading, but fell 0.62 percent to 96.60 in the evening session, possibly a lingering effect of their plagiarism scandal which prompted their chief research editor to step down.

Russian stock success was reflected by the MSCI Emerging Markets Index, which advanced for the first time in 7 days –  gaining 0.5 percent.

The Russian ruble eased against the US dollar, gaining 0.06 percent, at 33.0647 rubles per dollar.

WTI crude surged on US manufacturing data, hitting a three week high of $108.59 per barrel, and Brent followed suit and made significant gains to $110.00 per barrel. Friday's floors may see crude rise above Brent, as it did on July 19.

Equities on the New York Exchange hit record highs on positive jobless data, as well as the Federal Reserve's decision to prolong quantitative easing.

A decision to dismantle the $85 million per month bond buying program would hit stocks hard and lower prices, but would strengthen them long-term.

The Dow Jones closed up 0.83 percent, the S&P gained 1.25 percent, and the Nasdaq jumped 1.36 percent.

The European Commission Bank's announcement they would keep their lending interest rates at a record 0.5 percent gave confidence to Thursday's market that should carry on into Friday. Equities are still trading high on positive euro zone unemployment data.

Amsterdam's Euro Stoxx 50 is up 1.46 percent at 2,808.64 , Germany's DAX has gained 1.63 percent to 8,410.73, France's CAC 40 is rallying 1.25 percent at 4,042.73, and London's FTSE 100 is up 0.92 percent at 6,681.98.

Asian stocks are also mostly high in anticipation of US jobs data. The Nikkei is up 2.8 percent at 14,398.50, the Shanghai Composite is up 0.35 percent at 2,036.07, and the Hong Kong Hang Seng Index is up 0.51 percent at 22,202,12.

Australia's ASX 200 benchmark has bounced back from yesterday's loss, and is trading up 0.88 percent at 5,105.80, even after budget data revealed an AU$30 billion deficit –  almost double the projected amount.