Market Buzz: Federal Reserve continues stimulus
Published time: 1 Aug, 2013 06:38
Edited time: 1 Aug, 2013 06:51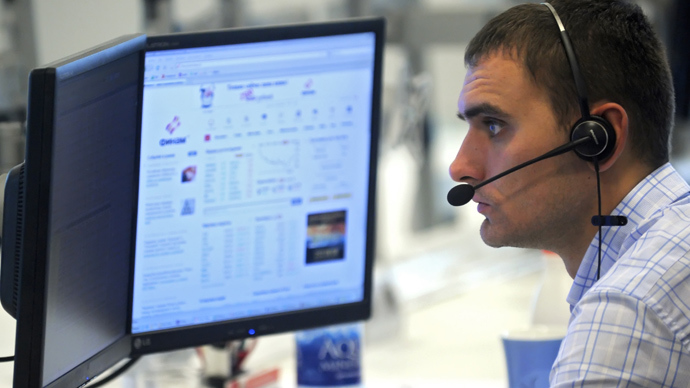 Moscow floors made slight gains as both the MICEX and RTS indices climbed towards recovery. The MICEX gained 0.13 percent and closed at 1,377.69 and the dollar-based RTS finished strong up 0.58 percent at 1,320.95.
One of the strongest performers on the RTS index was Sberbank, which despite a plagiarism scandal that prompted their chief research editor to step down, gained 0.88 percent to trade at 95.39.

The Russian ruble gained against the dollar by 0.23 percent, and is priced at 32.9275 rubles to the dollar.

WTI crude gained for a second day on surprisingly strong Chinese manufacturing data, increasing 0.45 percent to $105.50 per barrel. Brent is nearing $108 per barrel, and has gained 0.18 percent to $107.89. Oil and natural gas exports account for roughly 50 percent of Russia's budget.

Equities on the New York Exchange were mixed on positive GDP results and the Federal Reserve's statement they will continue buying $85 billion in treasury bonds and mortgage debt, a sigh of relief for markets and investors.

A decision to dismantle the $85 million per month bond buying program would hit stocks hard and lower prices, but would strengthen them long-term.

At market close, the Dow Jones dipped 0.14 percent, the S&P 500 index dropped 0.01 percent, and the Nasdaq Composite Index climbed 0.27 percent.

European markets are trading high on positive euro zone unemployment data.

Amsterdam's Euro Stoxx 50 is up 0.32 percent at 2,768.15, Germany's DAX has gained 0.06 percent to 8,275.97, France's CAC 40 climbed 0.06 percent, and London's FTSE 100 index is trading up 0.76 percent at 6,621.06.

In Switzerland, markets are closed for a  national holiday. The UK will release manufacturing activity data, and the Bank of England and European Central Bank will publish their monthly monetary policy statements.

Asian stocks are also mostly higher following Chinese PMI data. The Shanghai Composite soared 1.64 percent after the data was released, and the Nikkei jumped 2.66 percent, and is currently up 0.76 percent. The Hong Kong Hang Seng index added 0.59 percent.

Australia's ASX 200 benchmark slipped 0.04 percent.