Eurozone jobless down for first time in 2 years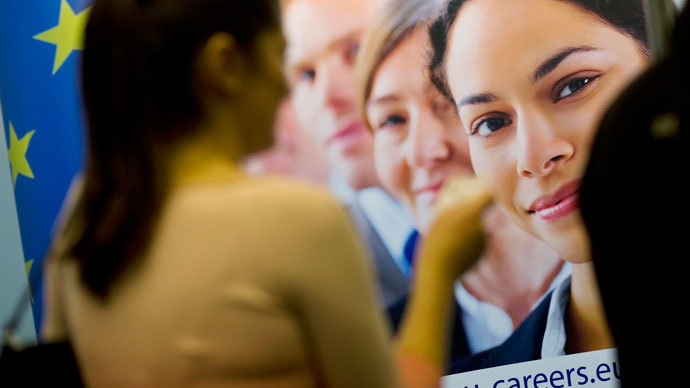 There is more evidence the eurozone economy is on the road to recovery. The EU statistics office said on Wednesday that the number of unemployed across the 17 eurozone countries fell in June by 24,000 to 19.27mn. That's the first fall since April 2011.
The number of people out of work across the European countries that use a single currency decreased in June, though in relative terms June unemployment rate was stable compared with May - at 12.1%.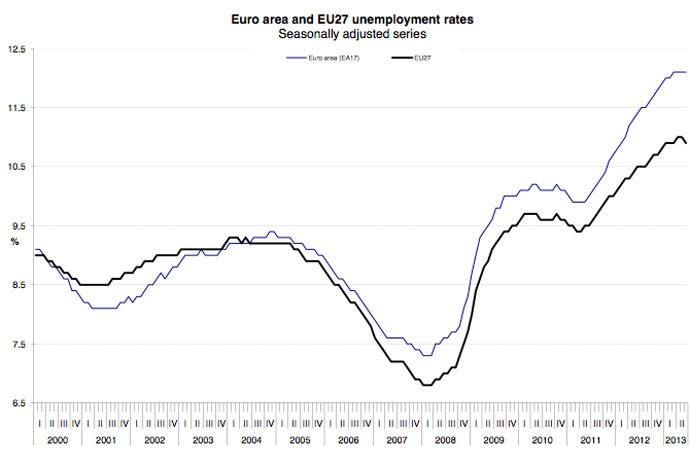 Youth unemployment, however, remained a concern, as the proportion of people under 25 among economically active population in the Eurozone was up in June to 23.9 percent from 23.8 percent in May.
The eurozone economy has been shrinking since the last quarter of 2011 as the raging debt crisis prompted many countries to pursue tough austerity policies that weighed on economic activity and confidence.
Despite being marginal, the decline may mark another sign that the recession in the Eurozone countries may have ended.

Figures this week showed the Spanish recession nearly ended in the second quarter. Madrid's National Statistics Institute, or INE, said the country's gross domestic product contracted 0.1 percent between April and June. This marked an improvement over the first quarter's 0.5 percent contraction and the fourth-quarter 2012 contraction of 0.8 percent - the worst rate of decline since the start of the crisis in 2009. On top of that, there are hopes that even Greece may start growing again at the end of this year following a recession that's wiped out around a fifth of the country's output.
Analysts think figures next month will show the region may have eked out a modest growth during the second quarter, thanks mainly to a rebound in Germany, Europe's biggest economy.
Separately, Eurostat reported consumer price inflation in the eurozone was unchanged at 1.6 percent in the year to July, in line with expectations. Though inflation remains below the European Central Bank's target of keeping annual price rises just below 2 percent, rate setters are expected to keep the bank's main interest rate unchanged at the record low of 0.5 percent following the conclusion of their monthly policy meeting on Thursday.
You can share this story on social media: