German May unemployment increase 4 times worse than estimates, but optimism prevails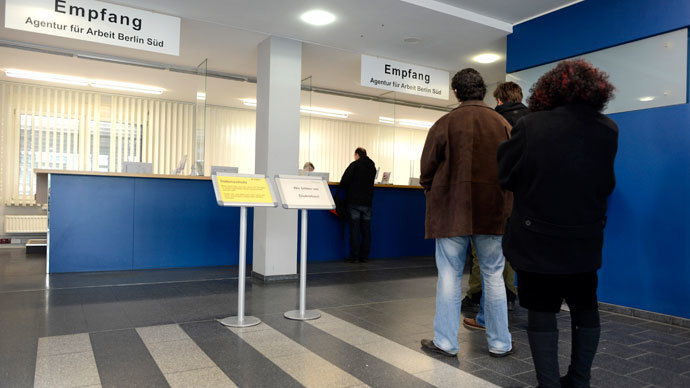 The May unemployment increase in Germany was 4 times above analyst expectations. However, most experts believe the country remains in good shape, saying long public holidays and cold weather eroded monthly numbers.
The number of unemployed people was up 21,000, which compares to the expected increase of 5,000, according to the Federal Labor Agency.

Weak data "can also be explained by the relatively high number of public holidays in May and the still cold weather. Therefore, it is far too premature to start singing swan songs on the labor market," Bloomberg quotes Carsten Brzeski, senior economist at ING Groep NV in Brussels as saying.

In relative terms, the unemployment rate went down in May to 6.8% from the April figure of 7.1%. In absolute terms 2.937 million people were registered as unemployed, which marks a  83,000 fall over the month.

Though being affected by the ongoing crisis, the EU economic powerhouse Germany still looks to be relatively sound. German GDP added 0.1% in 1Q 2013, which compares to a 0.7% slump in the previous 3 months. This is when the eurozone GDP fell 0.2% during 1Q 2013, which marked a sixth straight quarterly contraction. And "in the next year or two it's hard to be optimistic," Dale Mortensen, Nobel Prize winning economist, told RT.

Business confidence across Germany also improved this month for the first time since February, with consumer confidence expected to climb to the highest since 2007 in June, according to market researcher GfK AG. German households increased their spending 0.8% in 1Q 2013 and the Bundesbank expects the economy to gather pace in the current quarter.

Germany is "in the trap of success" because "we already have very high employment and a stable labor market and, as a consequence, it is difficult to expect further improvement from such high levels," Bloomberg quotes Frank-Juergen Weise, president of the Federal Labor Agency.

"Germany's economy is solid, and sooner or later the unemployment numbers will go down again," concluded Alexander Koch, an economist at UniCredit Group in Munich.