Vote of no confidence: Eurozone economic morale hits low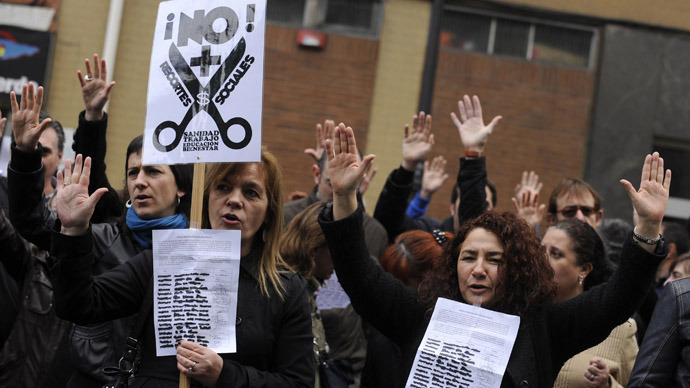 Confidence in the eurozone's economy slumped for a second straight month in April according to European Commission data. It has renewed the call for cutting interest rates by the European Central Bank.
The Economic Sentiment Indicator fell 1.5 points points to 88.6 and missed the predicted 89.3 points set by economists contacted by Reuters.
Even the mood in recession-resilient Germany has shifted south. Business confidence and investor sentiment dropped 2.3 points in April.
Volkswagen, Europe and Germany's biggest car maker, announced on Monday that their first quarter sales nosedived almost $60.7 billion and the profit margin dipped from 4.1 percent down to 2.4 percent. The economic drought has curbed demand, and has affected each and every industry involved in the final product.
"The VW group is not completely immune to the intense competition and the impact this is having on business," CEO Martin Winterkorn said in a statement.
"The current environment is definitely a tough challenge for the entire industry," Winterkorn added.
Morale also dropped in France and Italy, meaning the euro zone's three largest economies share the consensus that economic conditions are worsening, and not improving.
The dismal figures showcase the eurozone's struggle to shake off the recession and reinstate a positive economic output among companies, consumers, and investors.
The bailout in Cyprus and the slower than expected recovery have spurred the suggestion to cut interest rates to lower the cost of borrowing and thus to improve morale.
The European lending benchmark rate is set at 0.75 percent, a record low in itself, and many propose cutting it down to 0.5 percent.
Consumers don't seem to be bothered by the economic downturn. Consumer confidence in the euro zone increased by 1.2 points and improved in crisis hot spot Spain by almost 1 point.
On Monday the Greek parliament approved legislation to cut the civil service by 15,000 jobs, including 4,000 by the end of 2013. The move is part of the larger austerity movement to balance GDP and debt, a condition from international lenders to continue receiving bailout checks.
The European Central Bank doesn't want people to count the euro out just yet. Following the data release the ECB advocated on behalf of the euro, touting it was stable although it has dipped into its second recession and 5 members have required bailouts from international lenders, which has cast doubt over the viability of the Eurozone.
"I recognize that, at present, the euro area is not an excellent advertisement for stability given the difficulties facing a number of its members," ECB board member Joerg Asmussen said at a meeting in Berlin.

"I also think it is important not to read too much into the current situation."
You can share this story on social media: