Austerity in EU has reached the limit, focusing on growth is the priority
Published time: 22 Apr, 2013 12:29
Edited time: 23 Apr, 2013 17:50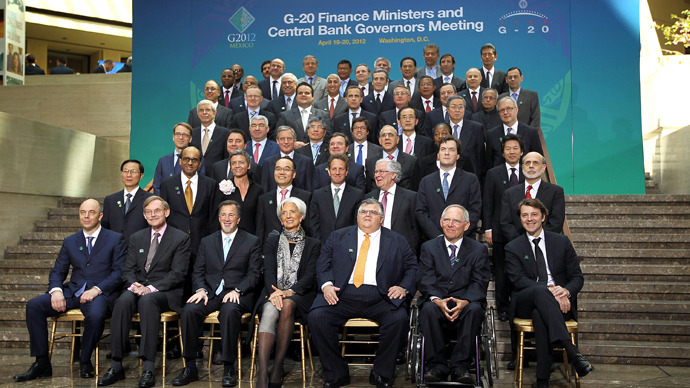 The President of the European Commission Jose Manuel Barroso said on Monday the austerity policies of the EU in recent years have reached their limit in fighting the financial crisis.
"While I think this policy is fundamentally right, I think it has reached its limits," Jose Manuel Barroso said during a conference in Brussels adding that choosing between austerity and growth "is completely wrong" and that while austerity is working, there should be more pro-growth measures as well.
"This is indispensable, but it has to be complemented by a stronger emphasis on growth and growth measures, even in the shorter term," he said. "We need to complement this with short-term measures for growth."
He also hinted that some countries could be given longer to get their budget deficit in line with EU rules which limit it to 3% of gross domestic product.
Olli Rehn, the European Commissioner for Economic and Monetary Affairs, quoted by Reuters, said that ''in the early phase of the crisis, it was essential to restore the credibility of fiscal policy in Europe... Now, as we have restored the credibility in the short term, that gives us the possibility of having a smoother path of fiscal adjustment in the medium term," he explained.
Wrapping up the meeting of the Group of 20 in Washington last week the monetary authorities of  the world's leading economies agreed that Europe does not need so much austerity and has to find alternative ways to boost economic growth.
The meeting did not result in many new decisions. The finance ministers and central bankers along with IMF representatives were concerned with growth more than debt reduction. 
Russia chaired the summit in Washington and tried to reach an agreement to set fixed targets for reducing debt by the G-20 leaders meeting in St. Petersburg in September. However this idea was rejected by the representatives of the US and Japan.
In earlier statements Olli Rehn, said that blindly attempting to reach deficit targets is counter-productive, insisting that countries should rather focus on reforms to liberalise their economies, according to the Financial Times.
Austerity alone isn't enough
More Europe'an central bankers are starting to agree that they didn't fully realize that their austerity policies could have nasty side effects, and need to slow the pace of budget cutting and focus on growth and creating jobs.
One of the keenest promoters of austerity in Europe, Germany's Finance Minister Wolfgang Schaeuble said "fiscal and financial sector adjustments remain crucial to regain lost credibility and strengthen confidence.''
''At the current juncture, it is in particular the responsibility of the advanced economies, including Japan and the US, to follow through with ambitious fiscal consolidation over the medium term," he added. 
The joint statement issued at the outcome of the meeting said these strategies are to be developed by the time of the St. Petersburg summit due in September, reaffirming the results of the previous G20 meeting in February.
Closing the meeting, the IMF lowered its global growth forecasts, with most concerns focused on Europe. Managing Director Christine Lagarde divided the group's states into three types. In the first group she included developing and emerging economies that are the engine of global growth. In the second she put countries that are gaining momentum in their recoveries, like the United States. Most European states were put in to the third, most troubling group of states, which failed to stimulate their economies and hence slow down the global growth pace. Among them Lagarde named Germany, France, Italy and the UK.  
The Fitch agency cut its credit rating on the UK on Friday to AA+, saying that weak growth will lead to general government debt rising to 101% of GDP by 2015-2016.
EU's second largest economy, France missed its deficit goal in 2012 with deficit stuck at 4.8% of economic output, EU data showed on Monday.  France is now appealing to the European Commission which is to decide on  whether to give France more time to bring their deficits down towards the EU limit of 3 percent.
Spain also failed to meet the target deficit as the shortfall totaled 10.6% of GDP above the European Commission's forecast of 10.2%.
The austerity measures face fierce opposition in countries across Europe, and perhaps with good reason, as they've shown little effect in bringing down debt. Greece is the only country whose debt has inched lower. The other struggling European nations saw the opposite dynamic, with Portugal, Italy and Ireland all seeing rising debt. Given the evidence, for the Head of European Commission to call the austerity measures "fundamentaly right" was effectively declaring himself not a leader anymore, Patric Young of DV Advisors told RT Business.

"The whole point of leadership is that you help people with politics you want to bring forward. Fundamentally austerity has a role to play when essentially you have been through an amazing 10-15, in some cases 50-60, year party where everybody drank too much vodka and now they have huge hangover. So what we are saying about Mister Barrosso is ultimately he can't lead, he is not in charge so therefore he is in danger of admitting defeat and trying to get people what they want which is more vodka," Patrick Young said.

Meanwhile Japan was given thumbs up at the G20 summit. Finance ministers and central bankers have approved Japan's aggressive stimulus program, which has so far weakened the yen and boosted exports. According to the Japanese Finance Minister Taro Aso, his colleagues understand that Japan is aiming at beating deflation rather than competitively weakening the yen.
"To say that a cheap yen is our goal will grossly miss the point," Taro Aso told the Center for Strategic and International Studies in Washington.