Cyprus to finance bailout by selling €400mn of gold reserves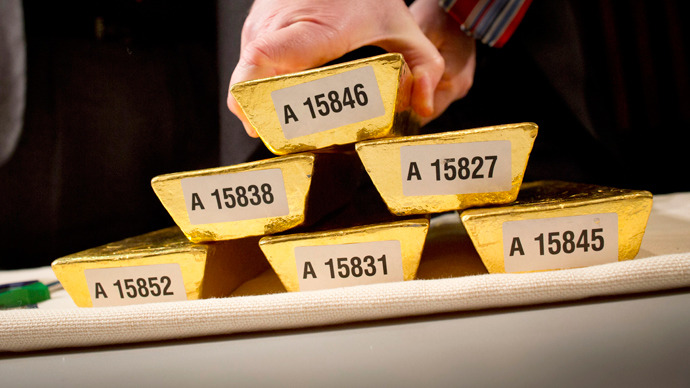 Cyprus is going to sell 400 million euros ($525-million) worth of gold reserves to finance part of its bailout, Reuters reports citing Troika documents.
Cyprus has reportedly agreed to sell excess gold reserves, a draft assessment of Cypriot financing needs prepared by the European Commission shows. At current prices it means that Cyprus will sell around 10.36 tonnes of gold out of 13.9 tonnes of gold it has now according to the World Gold Council data for February. The country's gold reserves are 58.3% of its forex reserves. 

According to the draft assessment the country would also raise the total of €10.6 billion, as originally planned, by taxing uninsured depositors at Laiki Bank and Bank of Cyprus.

The Central Bank of Cyprus has denied a Wednesday report claiming that a plan had not been approved to sell gold reserves in order to finance the country's bailout.
Cyprus News Agency quoted a spokesperson for the central bank as saying that the indebted state's monetary authority "never discussed" selling off the state's gold, "nor are there current or future plans to do so on the [central bank] board's agenda."

A draft version of the Memorandum of Understanding said that Cyprus was expected to provide €13 billion of funds in return for the Eurozone and the IMF giving a combined €10 billion in aid.
Though €400 million worth of gold isn't going to offset the gold market, it has still sent traders into a frenzy. Gold posted its biggest single-day decline in nearly 2 months on Wednesday after the report. Fear that other indebted Eurozone economies such as Greece and Portugal might threaten to sell off gold dropped bullion prices by 1.7% almost hitting a 10-month low.
The International Monetary Fund will still provide €1 billion to Cyprus's bailout and the euro zone will still provide 9 billion in aid for the rescue plan.
Bailing out and about
A final memorandum of understanding between Cyprus and international creditors on Cyprus' EU-IMF bailout has now been finalized, German finance ministry spokesman, Martin Kotthaus said on Wednesday.
In late March the troika of international lenders together with eurozone finance ministers agreed to allocate a €10 billion rescue package for the troubled Mediterranean island. In total Cyprus will need €23 billion between the second quarter of 2013 and the first quarter of 2016 to heal its financial wounds, Reuters reports citing a draft assessment it obtained. The International Monetary Fund will provide €1 billion, the eurozone €9 billion and the island itself will generate €13 billion. 
According to the EU-IMF plan, Cyprus will need to restructure its banking sector with its largest bank, Bank of Cyprus absorbing island's second largest Laiki Bank. Cypriot authorities also agreed that all bondholders, investors and savers with over €100,000 on country's two biggest banks to take losses up to 60% as part of bailout terms.
Nicosia is expected to receive a further €600 million over three years from raising the corporate income tax rate and the capital gains tax rate.



You can share this story on social media: