Market Buzz: Floors quiet ahead of Fed decision
Published time: 31 Jul, 2013 06:24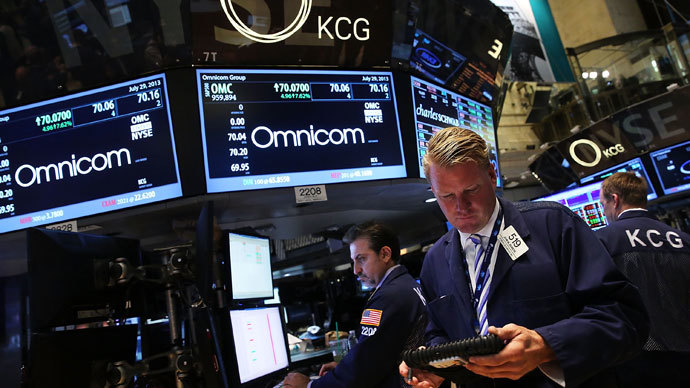 The Moscow Exchange was forced to stop trading briefly after Uralkali, the world's largest potash producer, dropped 19 percent after announcing the end of a trade agreement with a Belorussian competitor, which could slash potash prices 25 percent.
The 50-member benchmark MICEX lost 0.8 percent to 1,387.31 at market close, and the dollar-based RTS index fell 1.1 percent to 1,326.41, leaving a lot of ground to be regained on Wednesday.

The Russian ruble weakened against the dollar by 0.13 percent, and is trading at 33.0044.
 
Oil is trading mostly higher ahead of the Federal Reserve's monetary policy decision, due Wednesday afternoon.

WTI is trading at $103.20, up 0.13 percent after big losses Tuesday, and Brent is down 0.11 percent on Asian floors, at $106.79 a barrel.

Wall Street trading was quiet on Tuesday, as investors wait for the Fed's decision whether or not to taper stimulus programs. A decision to dismantle the $85 million per month bond buying program would hit stocks hard and lower prices, but would strengthen them long-term.

Separately, the US will release their GDP data.

At the end of trading Tuesday, the Dow Jones Industrial Average dipped 0.01 percent, the S&P 500 climbed 0.04 percent, and the Nasdaq rose 0.48 percent.

European markets are trading high ahead of the euro zone unemployment official report.

Amsterdam's Euro Stoxx 50 is rallying up 0.64 percent at 2,759.21, Germany's DAX has edged up 0.15 percent to 8,271.02, France's CAC 40 gained 0.45 percent to 3,986.61, and London's FTSE is up 0.16 percent at 6,570.95.

The Shanghai Composite Index (SHCOMP) rose for the first time in five days, adding 0.7 percent, while the Hang Seng China Enterprises Index of mainland companies listed in Hong Kong added 0.3 percent.

Asian stocks are mixed. The Nikkei is down 0.41 percent, and the Hong Kong Hang Seng  increased 0.3 percent. The Shanghai Composite snapped from a five-day losing streak, and added 0.43 percent. Since August 2009, the Shanghai Composite has declined 43 percent, erasing $748 billion in market value.

Australia's ASX 200 continues its strong run in July, up 0.46 percent to 5,070.30, and is headed for an eight-day winning streak.