Market Buzz: Asian floors rally, European floors await Spain GDP
Published time: 30 Jul, 2013 06:24
Edited time: 30 Jul, 2013 06:33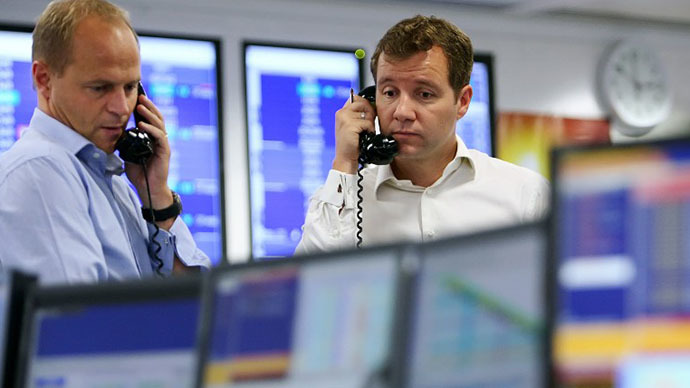 Russian equities advanced after a late afternoon drop, and indices closed with slight gains. The 50-member MICEX advanced 0.24 percent, and the dollar-based RTS added 0.50 percent and closed at 1348.11
Equities recovered after a local newspaper reported Russia's largest food retailer, Magnit, may be forced to close down stores in Moscow on Mayor Sergey Sobyanin's orders. The move caused the MICEX to dip 0.3 percent, while Magnit lost nearly 2.5 percent of shares. 
Magnit is one of the strongest performers on the MICEX, with a 66 percent gain in 2013 and a 6.1 percent weight.

Uralkali, the world's largest potash producer, is continuing to recover from last week's wipeout, adding 0.85 percent on Russian floors, but lost 1.25 percent on the London Exchange.

Rosneft, the world's largest publicly traded oil producer, reported their second-quarter profits at $943 million, boosted by its acquisition of TNK-BP in March.

The Russian ruble has snapped its losses against the dollar, trading up 0.13 percent.

Oil continues its slump with WTI down 0.27 percent at $104.27 per barrel and Brent down $107.37 a barrel.

US stocks fell on stimulus uncertainty, as they await more transparency on the Federal Reserve's plan to taper the country's monthly 85 billion bond-buying program. A report is to be issued Wednesday following a two-day meeting.

The Dow Jones closed at 0.24 percent, the S&P dropped 0.37 percent, and the Nasdaq Composite dipped 0.39 percent.

European Indices are mixed. Amsterdam's Euro Stoxx 50 is trading down 0.01 percent at 2,741.73, Germany's DAX is up 0.17 percent at 8,259.03, France's CAC 40 has edged up 0.11 percent to 3,968.91, and London's FTSE 100 is up 0.08 percent at 6,560.25.

Germany will release a consumer climate report Tuesday, and Spain will announce their gross domestic product.

Asian stocks have snapped Monday's drop, with most stocks trading higher on positive Japanese household spending data.

Japan's Nikkei has made significant gains, up 1.43 percent at 13,856.08, along with the Kong Hang Seng, which increased 0.35 percent to 21,927.52.  The Shanghai Composite is also rallying, up 0.84 percent.

Australia's ASX 200 continues its strong run in July, up 0.15 percent. Australia will produce official building data Tuesday.