Russia's manufacturing contracts in July to 3.5 year low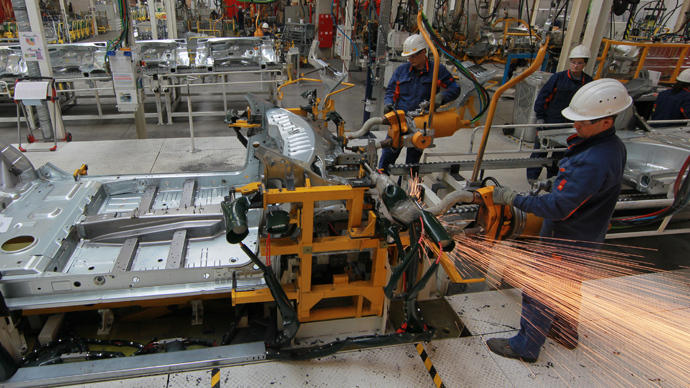 Russian manufacturing firms said their operating conditions deteriorated in July, indicating the industry's first contraction since August 2011.
The HSBC's Purchasing Manager Index (PMI) calculated for Russia – a snapshot of operating conditions in the manufacturing economy – came down below the dividing line of 50.0 in July, standing at 49.2.
The July reading was the first negative showing since August 2011 and the lowest since December 2009.
On a PMI 100-point scale, numbers below 50 show a contraction. The index embraces such indicators as dynamics of new orders, industry output, employment, suppliers' delivery times and stock of items purchased.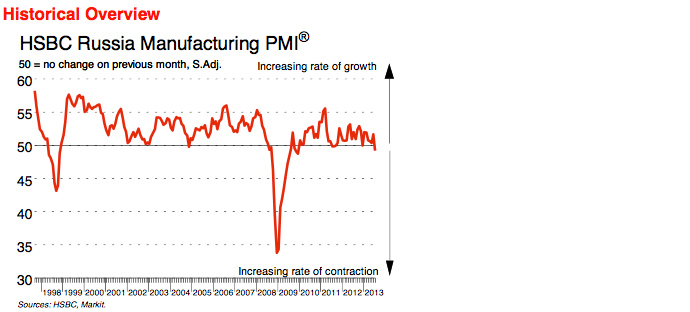 Weakness in new orders stood out as the main drag on Russian manufacturing, as they stopped expanding after 21 months of uninterrupted growth. The report revealed that the soft spot was the domestic market, as orders from abroad grew at their fastest clip since May 2012.
"These results appear negatively surprising after quite robust PMI survey results in the preceding month. Against such a sad backdrop, the improvement of New Export Orders to a 14-month high was the only bright spot in the survey. This is what makes the current situation positively different from those seen in the past, in 2008 and 1998: External demand is favorable for the resumption of growth this time," said Alexander Morozov, Chief Economist  for Russia and CIS at HSBC.
Looking at the recovery perspectives, Morozov said a rich harvest this year could boost the food industry. Coupled with easing inflation this should provide for income growth, better private consumption and increased output in related industries.
"That said, other Russian industries still appear vulnerable in the current environment, and the sustainability of export demand is not guaranteed, with signs of further growth moderation in China," Morozov said.
Dragging China
Chinese manufacturing remained weak last month with small and midsized private businesses suffering a bigger share of the pain, two surveys indicated on Thursday. This added to an uncertain outlook for the world's second largest economy, as well as added pressure on Russia - one of its main trading partners. In 2012 Chinese-Russian trade hit another record high of $88.16 billion, having increased by 11.2%.
HSBC PMI  fell to an 11-month low of 47.7 from 48.2 in June, with the official China Federation of Logistics and Purchasing's manufacturing index growing marginally to 50.3 from June's 50.1.
Analysts say the HSBC figures reflect China's small and medium-sized private enterprises, which make up a bigger share of the survey, are now most vulnerable to Beijing's efforts to tighten up lending as well as to the slump in global export demand for toys, clothing, electronics and other manufactured goods.
China's big state-owned companies, which take an outsize role in the official survey, have easier access to bank loans and hardly compete in export markets.
China has recorded five straight quarters of growth below 8 percent - a substantial economic cooling for a country that previously grew at double-digit rates.
The People's Bank of China wants to tighten lending standards, which should reduce risk but is likely to reduce financing for private businesses that generate China's new jobs and wealth.
"We shouldn't dismiss the positive side in the official PMI, but at the same time the HSBC PMI is a reminder that things are still difficult especially, with smaller companies," said Wei Yao, China economist at Societe Generale.
"So basically that suggests as a whole if there is a recovery, it's a very gradual one and it's still quite unstable,"  Yao concluded.