Market Buzz: Emerging stocks underperform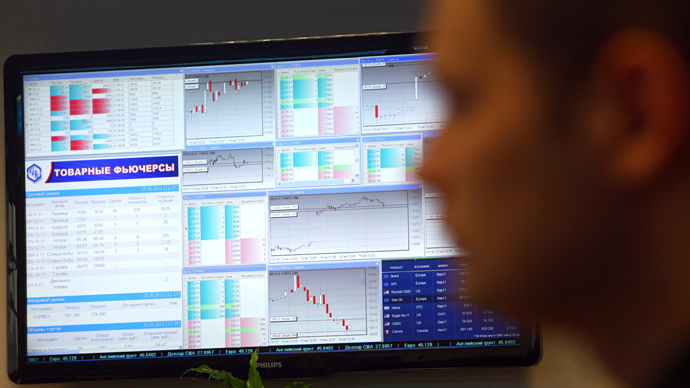 Russian stocks dropped for a second day on lower crude prices, and will look to recover before the weekend.
Gazprom, Russia's state owned oil giant, and Sberbank, the country's largest lender, made gains on Thursday floors, while other big players dropped. Sberbank closed up 0.17 percent to 95.87 and Gazprom advanced 0.92 percent to 0.17 percent.

The 50-member MICEX fell 0.5 percent, but the dollar-based RTS index gained 0.16 percent. In 2013, the MICEX has plunged 4.8 percent, underperforming compared to most of peer indices.

WTI crude oil is down 0.15 percent at $105.49 per barrel and Brent dipped 0.20 percent to $107.67 per barrel. Both are down on increased US output, which has surged to a 22-year high, as well as disappointing jobs data.

Lower crude prices could pose a major threat for the ruble, which could also depreciate on the increase of bond yields. It is currently trading up 0.44 percent against the dollar, at 32.5485

US stocks finished strong on earnings, led by Facebook shares which climbed nearly 30 percent after posting higher-than-expected revenue of 53 percent. The Dow Jones Industrial Average closed up 0.9 percent, the S&P climbed 0.26 percent, and NASDAQ jumped 0.71 percent.

Despite positive GDP data from the UK, a decrease in Spanish unemployment, and positive business sentiment readings from Germany, European stocks dropped.

The Stoxx Europe 50 is down 0.43 percent at 2,740.29, the DAX dropped 0.96 percent to 8,298.98, France's CAC 40 lost 0.17 percent to 3,956.02, and London's FTSE 100 declined 0.49 percent.

Germany will publish official retail sales and import price data on Friday.

Asian stocks are mostly higher despite Japan's Nikkei nearly 3 percent plunge, as well as the Topix index 2.7 percent dive, and heading for its largest drop since mid-June. The stocks didn't react positively to the positive Consumer Price Index data, which is predicted to rise 0.3 percent.

China's manufacturing data contracted in July, which for many investors indicates a longer and deeper economic slowdown.

Samsung Electronics, the largest smartphone producer, headquartered in South Korea, posted disappointing Q2 profits.

Hong Kong's Hang Seng is up 0.16 percent, and the Shanghai Composite shaved 0.62 percent.

South Korea reported its gross domestic product grew at an annual rate of 2.3 percent, beating most analysts' forecasts of 2.0 percent growth, the biggest jump in 2 years.

Australia's ASX 200 continues its strong July session, and is up 0.18 percent at 5,044.50.

You can share this story on social media: