'Britain on the mend': GDP grows 0.6 percent
Published time: 25 Jul, 2013 13:09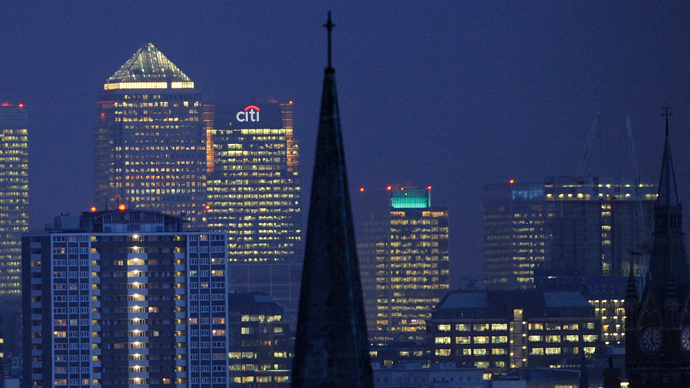 The UK's economy expanded by 0.6 percent during the second quarter of 2013, according to estimates by the Office for National Statistics.
Year-on-year, gross national product was 1.4 percent higher in Q2 2013, and met most analysts' expectations for growth.
Prime Minister David Cameron hailed the data as "encouraging" and signaled that the UK is on the 'right track' to economic recovery.
"Today's economic growth figures are encouraging. We are on the right track - building an economy for hardworking people," Cameron posted on his Twitter.
The UK economy hit a pre-recession peak in the first quarter of 2008, and has since shrunk by more than 7 percent.
It is the first time since 2011 that Great Britain has experienced back-to-back positive quarterly growth, which was spread over a wide-range of industries.
Agriculture, production, construction, and services all increased in Q2 from Q1. The hotel and restaurant index grew by 1.5 percent, agriculture output increased by 1.1 percent, construction increased by 0.9 percent, transport and communication increased by 0.6 percent, and business and finance sectors increased by 0.5 percent.
Industrials grew- agriculture, production, construction, and services increased from Q2 from Q1, with the largest contribution hailing from the service industry- which contributed 0.48 percent to the overall 0.6 increase.
Chancellor George Osborne tweeted: "GDP stats better than forecast. Britain's holding its nerve, we're sticking to our plan, the economy's on the mend. But there is still a long way to go."
Osborne also saw the overall economic health improving, noting that Britain has moved 'out of intensive care'.
Eurozone hope
Britain is the first G7 nation to report its GDP for the second quarter. The US economy is poised to expand at a 1.6 percent annualized rate, down from 1.8 percent in the first quarter.
China, the world's second largest economy, saw GDP slow to 7.5 percent in the second quarter.
Germany's Bundesbank reported on Tuesday Europe's largest economy is slated to expand in Q2, but then again slow in Q3 on falling exports and overseas sales.The same recovery trajectory could also apply to Britain.
Earlier this week new PMI data showed that the eurozone may be emerging from the recession as a whole, as the private sector growth hit an 18-month high.

A London-based financial information service Markit estimated the PMI index at 50.4, on a scale where any figure above 50 indicates expansion.
Eurozone manufacturing also unexpectedly rose in France and Germany, which sent European stocks to a seven-weak peak.