Market Buzz: Euro floors rally, waiting on Spain unemployment
Published time: 25 Jul, 2013 06:57
Edited time: 25 Jul, 2013 09:43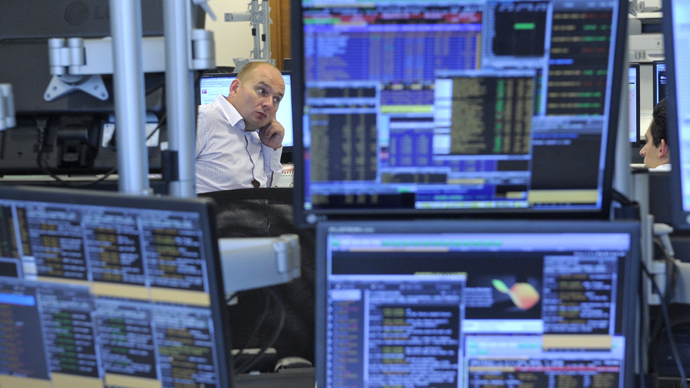 Russian equities tumbled and will look to gain back ground on today's floors. The MICEX closed down 0.04 percent at 1369.36 along with seven other key indices, but the dollar-based RTS finished up at 9523.37 points.
Gazprom, the world's largest natural gas extractor, and Russia's major gas company, fell 1.16 percent by market close on dipping crude prices.

WTI crude oil is down 0.31 percent at $105.06 per barrel, the biggest loss in more than a month, as US output increased to a 22 year high. Brent is down 0.26 percent at $106.91 per barrel, and could possibly slip below WTI again, an anomaly that happened on July 19, and before that not since August 2010.

The ruble depreciated 0.2 percent versus the dollar to 32.38 by 6pm in Moscow.

Lower crude prices weakened the ruble against the dollar, which has slipped further, trading at 32.4752, a slight depreciation since Tuesday, and large disparity from last week's 1.0 percent gain.

At the close of US trading, the Dow Jones Industrial Average slipped 0.26 percent, the S&P 500 dropped 0.38 percent, while the NASDAQ managed to ease up 0.01 percent.

The US will publish government data on durable goods orders, which will signal production strength or weakness to investors on Thursday.

European floors are rallying on positive manufacturing data released Wednesday, a light at the end of the tunnel from the nearly two-year recession. The Euro Stoxx 50 climbed 1.08 percent to 2,752.25, Germany's DAX continues its second day of ascent, and has added 0.78 percent to 8,379.11, a monthly high.  France's CAC jumped 1.01 percent to 3,962.75 and London's FTSE 100 gained 0.35 percent to 6,620.43.

Spain will release official unemployment data, and the UK will publish data on second quarter domestic product on Thursday.

Asian stocks dipped after data manufacturing data and slow earnings growth stunted stock growth. Japan's Nikkei is down 0.97 percent, Hong Kong's Hang Seng dropped 0.41 percent, and the Shanghai Composite shaved 0.45 percent.

South Korea reported its gross domestic product grew at an annual rate of 2.3 percent, beating most analysts' forecasts of 2.0 percent growth. The surge is the biggest in two years.

Australia's ASX 200 continues its strong July session, and is up 0.01 percent at 5,035.60.  The Aussie hit a 4.5-year low against the New Zealand dollar after the latter's Reserve Bank indicated it is moving towards removing monetary easing, holding the interest rate at 2.5 percent.