Market Buzz: Crude awakening?
Published time: 1 Jul, 2013 06:43
Edited time: 2 Jul, 2013 07:46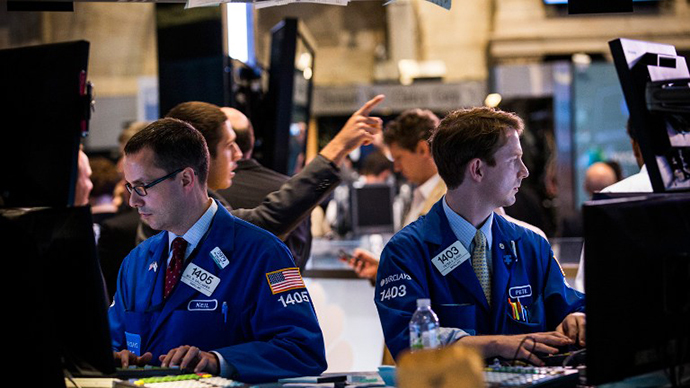 Russian equities should trade up on higher crude prices, but will cautiously await economic news from the UK and eurozone.
Russian floors reacted positively on Friday to the increase in crude oil, the MICEX gaining 1.31 percent, a recovery following its biggest lost since June 2012.
Brent oil is currently trading at 101.91, down 0.24 percent while WTI is trading at $96.36, slightly down 0.21 percent.
The RTS 50 stock index ended up at 1,278.56, up 0.24 percent but still continuing its six-month downward trajectory.
Strong US consumer sentiment data and a drop in German unemployment have kept European markets steady, with slight drops on Friday.
London's FTSE 100 index of leading shares dropped 0.45 percent to 6,215.47 at closing. Frankfurt's DAX also traded down at 7,959.22, down 0.39 percent. In Paris the CAC 40 dropped 0.62 percent to 3,738.91.
Monday, the UK will release its manufacturing PMI, net lending figures and mortgage approvals, which will affect local and international markets. The eurozone will also release an official unemployment rate as well as consumer price inflation, an indicator of overall inflation.
Stocks in the US dropped from mixed signals from the Federal Reserve and their plan on quantitative easing, but a University of Michigan study revealed the consumer index rose in June.
The Dow Jones fell 0.76 percent below 15,000 to 14,909.60 at close. The S&P 500 dropped 0.43 percent to 1,606.28, while the NASDAQ slightly trimmed losses to climb 0.04 percent to 3,403.25 at market close.
Markets in Asia were mostly higher on Friday, pushed up by good economic news from Japan, and continuing to react to positive data from the United States.
Asian stocks are mixed, Japan's Nikkei 225 is has gained 1.12 percent since opening, continuing its surge from Friday, reaching 13,830.35 at 6:00 a.m. GMT. The yen dropped against the dollar by 14.3 percent on New York floors, down to $99.14
Japan will release manufacturing data Monday, an important indictor traders will watch closely.
Hong Kong's Hang Seng rose 0.34 percent Friday, recovering from its drop earlier in the day, and the Shanghai Composite slid 0.4 percent, exiting its slump but still slow on growth, but the Australian ASX continues its slide since the change in leadership.
Markets in Hong Kong and Thailand today are close for holidays.