Market Buzz: Positive US jobless data, volatile oil drag on stocks
Published time: 16 Aug, 2013 06:46
Edited time: 16 Aug, 2013 06:50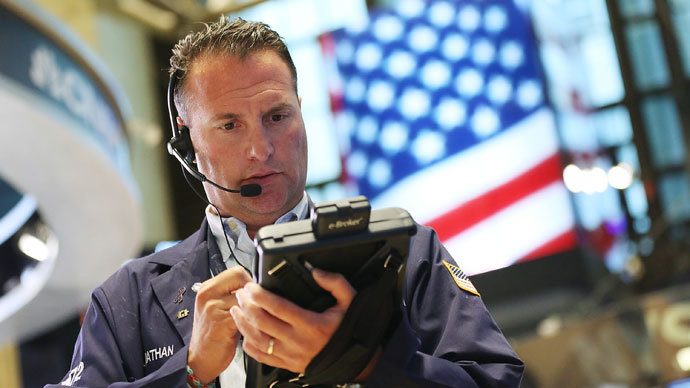 Emerging markets fell for the first time in six days, as improving US job figures heralded that monetary stimulus may soon be capped. Unrest in Egypt is inflating commodity prices, but markets worldwide are suffering losses, looking to neutralize.
A fall in weekly US jobless claims to a near six-year low Thursday reinforced views that the economy is strong enough to withstand having less extraordinary support from the Fed. The Labor Department reported that weekly claims slid 15,000 last week to 320,000 – the lowest level since October 2007.
Crude oil spiked over unrest in Egypt. WTI crude is trading at $107.55 per barrel, with Brent standing at $109.70 a barrel. The political situation, and fear over the closing of the Suez Canal, will dictate oil prices Friday. 
Volatile oil prices ate into Russian stocks, which fell significantly on Thursday's floors. The MICEX fell 2.28 percent to 1,391.37, and the dollar-based RTS dropped 2.13 percent during the main session, later recovering and gaining 0.92 percent to 1,339.66.
Losses in Moscow were led by big drops in stock in Russia's three largest oil companies. Gazprom dropped 0.54 percent, Rosneft decreased 1.14 percent, and LUKoil ended down 1.50 percent. 
Despite positive gains from positive GDP data, European equities didn't continue the upbeat growth from the day before.

Amsterdam's EURO STOXX 50 edged down 0.57 percent, France's CAC 40 lost 0.51 percent, and Germany's DAX fell 0.73 percent. London's FTSE 100 sustained big losses, sliding 1.58 percent.

On Friday the Eurozone will release official data on consumer price inflation, as well as trade balance figures.
Negative sentiment was shared across the pond. US stocks dropped on mixed economic indicators. At market close, Dow Jones was down 1.47 percent, the S&P 500 dropped 1.43 percent, and the NASDAQ Composite fell 1.72 percent.

The University of Michigan was set to release its preliminary study on consumer sentiment Friday.
Japan's benchmark index, the Nikkei 225, has already lost 1.47 percent in Friday trading. The Shanghai composite dipped 0.53 percent, and Hong Kong's Seng fell 0.81 percent.