Market Buzz: Euro GDP inspires, Egypt unrest to drive oil
Published time: 15 Aug, 2013 07:27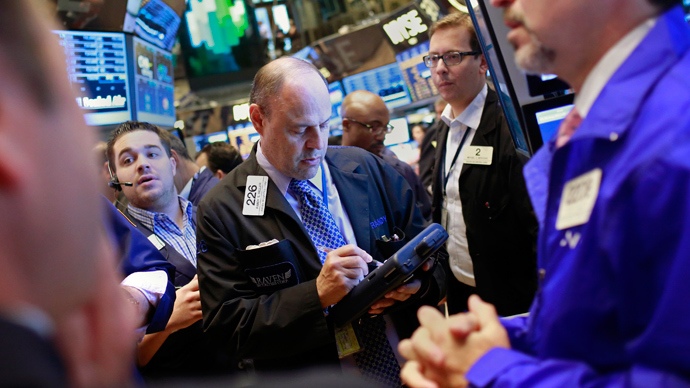 Positive European GDP data and higher oil prices contributed to the success of Russian equities on Wednesday, and were expected to continue to drive trading Thursday.
The ruble-based MICEX rallied 1.14 percent to reach 1,423.87, a near-month high, and the dollar-based RTS climbed 0.06 percent to 1,339.63. The Russian ruble has snapped its three-day slide, trading at 33.0528 to the dollar.

Gazprom, the world's largest producer of natural gas, steadily increased during day trading, up 0.28 percent.

Crude oil is currently trading high, but unrest in Egypt will make oil prices significantly volatile. WTI crude is trading at $107.33 per barrel, up 0.45 percent, and Brent is up 0.34 percent, at $110.58 per barrel.

"The price of crude can easily rise above $110 per barrel," Alexey Pukhayev, an analyst at Investcafe, predicts.

GDP in the 17-nation Eurozone grew by 0.3 percent in the second quarter, which marked the first step out of an 18-month long quarterly economic contraction. Eurozone recovery would boost energy demand and pricing worldwide.

All euro zone indices rallied on the news. Amsterdam's EURO STOXX 50 gained 0.37 percent, France's CAC 40 climbed 0.53 percent and Germany's DAX jumped 0.27 percent.

London's FTSE 100 traded low, down 0.37 percent. The UK is due to release retail sales data Thursday.

The Eurozone success didn't translate across the Atlantic, where US equities dropped. The Dow Jones finished down 0.73 percent, the S&P 500 fell 0.52 percent, and the Nasdaq Composite was off 0.41 percent.

US markets are awaiting a raft of data that will drive markets, including reports on consumer inflation and jobless claims, as well as industrial production from New York State.

Japan's benchmark index, the Nikkei 225, has already lost 1.12 percent on Thursday's floors. The Shanghai composite rose 0.14 percent, and after a day of halted trading because of typhoon conditions, the Hong Kong' Seng is trading up 0.48 percent.