Market Buzz: Fingers crossed on European GDP
Published time: 14 Aug, 2013 06:22
Edited time: 14 Aug, 2013 06:47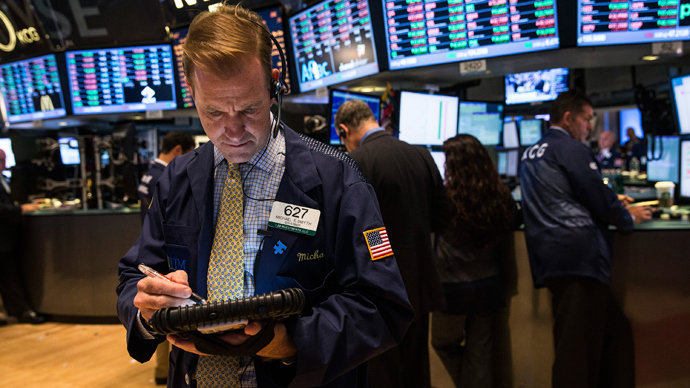 Investors will be closely watching euro zone GDP data on Wednesday. If the news is positive, stocks are expected to soar on confidence Europe will soon increase its demand for energy and goods.
Preliminary Q2 GDP reports for the Eurozone will be the strongest driver for trading floors around the world. The GDP data is expected to create a domino effect, as China, the US and Russia are all waiting for a European recovery to kick in, as the Eurozone recession has hit energy consumption and exports.
On Tuesday, Russian stocks hit a three-week high as strong data poured in from the US, Germany and China. As some of the world's top energy consumers rebuild their economies, demand for oil is increasing, driving Russian markets up. 
"Markets are heading upwards as investors pick companies that are exposed to Chinese and European data," Vadim Bit-Avragim, a portfolio manager at Moscow-based Kapital Asset Management, told Bloomberg.
The MICEX rallied 1.4 percent and will open at 1,407.86. The dollar-based RTS gained 0.06 percent, and will open Wednesday at 1339.6. Gas giants Gazprom and LUKoil picked up gains on high pricing, but these rises could quickly erased when Russian markets open.
Oil increased on Russian floors on Tuesday, but dropped in early Wednesday trading in Asian markets, with WTI crude trading down 0.57 percent at $106.22 per barrel, and Brent trading at $109.13 a barrel, dropping $0.63 from previous gains.

Swinging oil prices have a tight grip on Russian equities, as more than 50 percent of Russia's federal budget revenue is sourced from oil and gas profits.
European data showed increased investor confidence and US retail sales rose in July.
The Russian ruble hit a four-year low against the dollar, after Moscow's Central Bank raised the trading band by 5 kopeks. (33.0488 rubles can be bought for $1.00.)
All European indices are trading high in anticipation of the GDP announcement. Amsterdam's EURO STOXX gained 0.51 percent, London's FTSE 100 gained 0.57 percent, France's 40 Index increased 0.51 percent, and Germany's Dax rose 0.68 percent.

The weak yen continues to drive the Nikkei, which is up 0.46 percent, and will probably continue positive growth on the Bank of Japan's announcement they expect the economy to show "moderate growth" in 2013.
Hong Kong's Seng rose 1.21 percent to 22,541,14, while the Shanghai Composite eased up 0.07 percent to 2,108.27.
US equities got a small boost on positive retail sales for the fourth consecutive month, and will look to weekly unemployment data as an economic indicator today.
Uhe US is waiting for retail sales data, which should spell more action for floors Tuesday than Monday, when stocks were quiet. At market close, the Dow Jones rose 0.20 percent, the S&P 500 index climbed 0.28 percent, and the Nasdaq Composite edged up 0.39 percent.