Mexico to end 75–year-long state oil monopoly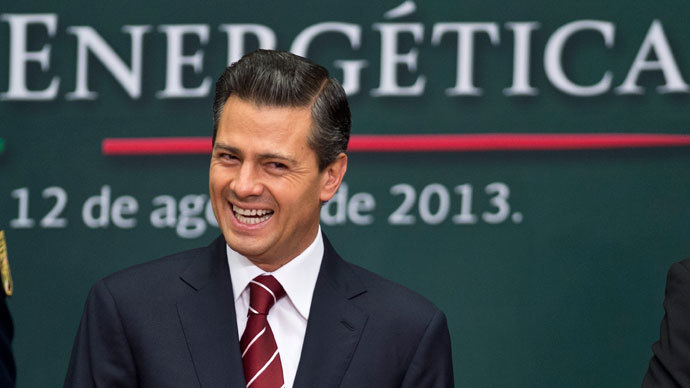 Mexico's President wants to amend the constitution and allow foreigners to cash-in on the country's oil profits. The move could help attract billions from such oil majors as ExxonMobil and Royal Dutch Shell and provide cheaper energy for all Mexicans.
Under the plan by President Enrique Pena Nieto, articles in Mexico's constitution forbidding private sector contracts and limiting the country's energy sector to state-run companies need to be amended, the Financial Times (FT) reports.
If approved by congress, the bill will offer profit-sharing contracts rather than production-sharing contracts, the President added. While the state would retain ownership of Mexico's oil reserves – estimated at 13.87 billion barrels – it would also offer cash-profits incentives to companies like BP, Chevron, ExxonMobil, Royal Dutch Shell.
"In no way it is a privatization. It is opening up the possibility for private capital to join public policies ... without going as far as concessions" said Cesar Camacho, chairman of Pena Nieto's ruling Institutional Revolutionary Party (PRI).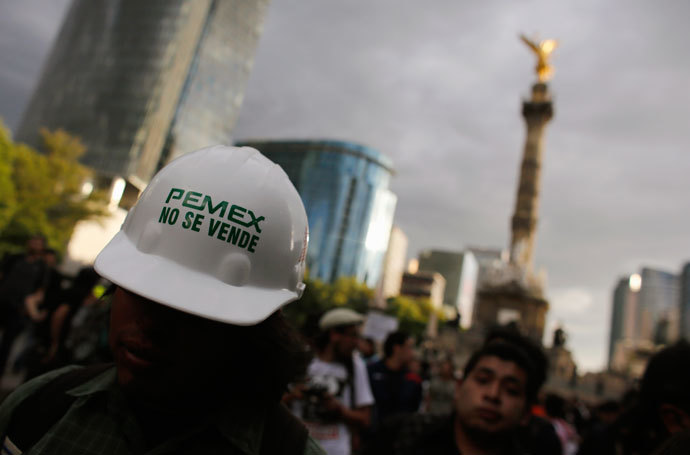 The move would mark the first major market reshuffle in 75 years. Back in 1938 all components of Mexico's energy chain - from production to distribution – were made the legal property of the Mexican people, after President Lázaro Cárdenas took its fields back from 17 US and British companies and changed the nation's constitution. 
The changes would also dismantle today's monopoly of Petroleos Mexicanos, or Pemex, which in turn would "provide cheaper energy for all Mexicans," Mr. Nieto said.

They would also boost oil production to 3 million barrels per day by 2018 and 3.5 million barrels per day by 2025. Gas production, currently at 5.8 billion cubic feet, would increase to 8 billion cubic feet by 2018 and 10.4 billion cubic feet by 2025, as EL Financiero newspaper reports.
Investors are reacting positively to the prospect, as the move could signal long-term economic gains for all sides, as the location is safer, cheaper, and more developed than Arctic exploration.
Mexico is in a similar predicament to many of its oil-rich Latin American neighbors. Reserves in Venezuela, for example, are among the world's largest, but production and output are on the decline.
"We require capital, technology and know-how so it's necessary to associate ourselves with those who have it," Energy Secretary Pedro Joaquín Coldwell said at the press conference.
In 2004, at peak production, Mexico was producing 3.8 million barrels per day. Recently, however, production has dropped below 3 million barrels, according to the US Energy Information Administration.
Russian companies Rosneft and Gazprom have both been expanding their reach in gulf oil ventures, in Venezuela and the US respectively, and may look to partner with Latin America's second largest economy.
Peña Nieto hopes more private-sector cooperation will reverse the more than eight year production slump, but some experts do not think the measures go far enough. 
"It might be an improvement on the current legal setup, but I don't know if it's going to be enough to make Mexico attractive at a global level. It may be too cautious," Marcelo Mereles, a partner at Mexico City-based energy consultancy EnergeA, told Reuters.

US-Mexico electricity trade currently accounts for less than a hundredth of a perfect of US electricity use. Electricity export isn't as lucrative as oil, but Southern US energy groups may look to expand their reach if the sector opens up.


You can share this story on social media: