Self-exiled economist re-elected to Sberbank board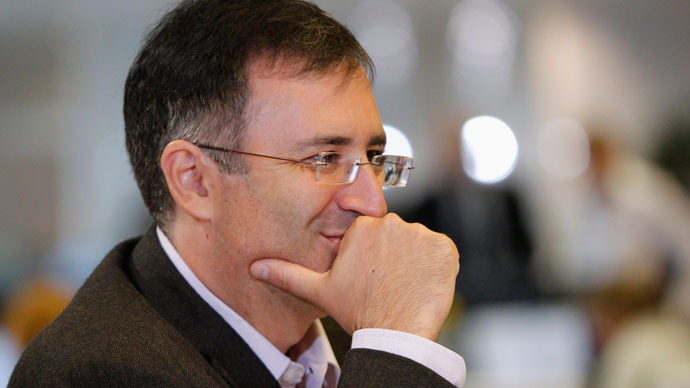 Renowned economist Sergey Guriev, who fled Russia over a month ago in fear of legal prosecution, has been re-elected to the Lenders Board at the country's largest bank.
A correspondent of Vedomosti tweeted 'Guriev has been elected to the Supervisory Board of Sberbank' at 2:31am Moscow Standard Time today.
According to the Vedomosti correspondent, Guriev received more votes than current Sberbank President German Gref. The board consists of 17 members, who heavily dictate the development strategy of the bank.
Igor Kondrashov, director of Sberbank's legal department, explained that the bank can challenge the vote, but they have not yet decided to.
The former rector of the New Economic School in Moscow says he won't be back in Russia in the 'foreseeable future'. Guriev's name remained on the Sberbank ballot, even though the economist withdrew his candidacy on May 27, just days before the news broke he fled Russia.
"I won't go back even if there is a small chance of losing my freedom," the Financial Times quoted Guriev. "I have not done anything wrong and do not want to live in fear."
Guriev will now be a visiting professor in the economics department at the Institut d'Etudes Politiques in Paris, France. He delivered his first lecture on Thursday, the same day the Russia's New Economic School accepted his resignation as rector, a post he has held since 2004.
The New Economic School is being investigated for receiving funds from imprisoned oil tycoon, Mikhail Khodorkovsky. The opponent of President Putin is currently serving an 11 year sentence.
Prosecutors claim Mr. Guriev received money through a fund established by Yukos, Khodorkovsky's company, a claim the professor flatly denies. 
Guriev said he has been questioned a total of 10 hours on three separate occasions in February and April, and has handed over hundreds of pages of documents and emails, and claims he was being pressured to surrender five years' worth of emails and to allow searches of his office and home.
Mr. Guriev started to worry he could eventually be named a suspect to the Yukos case, rather than a witness, and deprived of his passport. This would separate him from his family who live in France.
"Better in Paris than in Krasnokamensk," he wrote on his Facebook page. Krasnokamensk is the city Khodorkosky served part of his prison term from 2005 to 2006.
Prosecutors in the Yukos case have been examining a critical 2011 report, which Mr. Guriev co-authored.
The report on the Khodorkovsky prosecution was ordered by the human rights council of former President Dmitry Medvedev. Having lost power to a newly elected President Vladimir Putin, Medvedev and his liberal–leaning team are now viewed with suspicion as opposition supporters. 
Alexander Kudrin, Russia's ex-Finance Minister who still keeps close to Putin, expressed his regret at Guriev's sudden departure.
"If Sergey Guriev leaves New Economic School and does not return to Russia, that would damage the country's economic science as well as Russian civil society," Kudrin said on Twitter.
Some opinions suggest that the runaway economist was being "punished" for his outspoken support of Russian opposition activist Aleksey Navalny, who faces a court case over alleged embezzlement.
Guriev is a member of the Russian government's expert council and a member of the personnel policy council of Moscow City Hall. The Human Rights Council earlier summoned Guriev as an expert on the second Yukos case.