Greece may go bust in November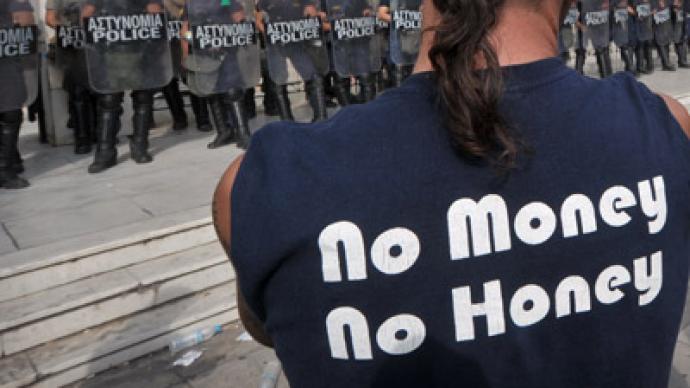 Greece will run out of money as early as the end of November, if it doesn't receive the scheduled bailout plan payment, according to the PM. Budget cuts - a precondition for bailout – are starting to severely hurt the economy.
The officials from the European Commission, International Monetary Fund and European Central Bank- the so-called "troika" – are currently in Greece to check the country's progress in fulfilling the terms for receiving the aid. If their report doesn't pave the way for the payment of the next €31bln ($40bln) tranche of the country's bailout, Greece could be forced to default on its debts and perhaps leave the euro. Prime Minister Antonis Samaras said he is confident the money would arrive on time, but in an interview with the German daily Handelsblatt published Friday warned that it is "very difficult'" to make the further cuts to pensions and wages the country's debt inspectors are seeking. "The troika is demanding above all further cuts to pensions and wages. That is very difficult, because we are already bleeding," he said. "The existing cuts already go to the bone. We are at the limit of what we can expect of our population."Greece has relied on bailouts from increasingly impatient international creditors since May 2010. In return, it imposed a punishing austerity program, repeatedly slashing incomes, hiking taxes and raising the retirement age.
You can share this story on social media: